Mechanical counter plans for sale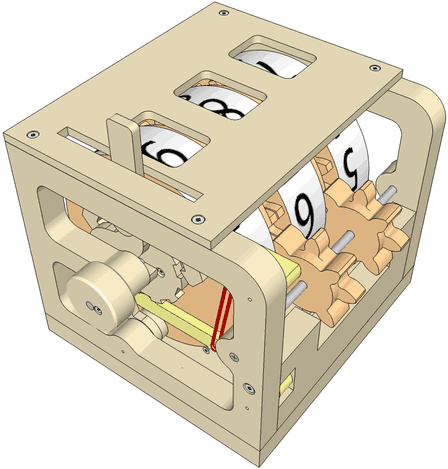 This mechanical counter works much like an old car odometer counter, or mechanical counters in utility meters. A lever allows for incrementing and decrementing the counter, and a jog wheel on allows for changing the numbers more quickly.

The plans include:

Detailed drawings of every part of the counting machine
Dimensioned 3D views and assembly drawings
Full-scale 1:1 drawings of all parts so you just paste them onto plywood and cut them out with a bandsaw or scrollsaw.
Detailed instructions on how to build it, with over 40 photos
Mirror image digit templates, as used in the construction
More photos of the completed counter
Materials and hardware list
A SketchUp model of the copy carver, which allows you to view it from any angle, disassemble it, or regenerate each of the views in the plans by clicking on the 'scene' tabs in SketchUp. SketchUp is a free, easy to use CAD program, downloadable from Google.
More about this mechanical counter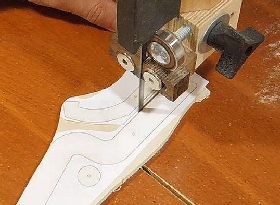 The plans include printable 1:1
cutting templates to simplify construction
A peek inside the plans...
The plans are in metric units, except for drill and dowel sizes, which are in imperial units. You can generate plans in imperial units simply by changing the units to "imperial" in SketchUp under "model info", but the units will not work out to nice fractions.
Cost: $12
On payment, you will be redirected to the download page after a five second delay.
The plans are a 6 megabyte zip file (your computer, Mac or PC, already knows how to open zip files)
A download link will also be emailed to you automatically. Emails about downloads may be treated as SPAM
by some email systems so Please check your SPAM folder after purchase.
Use your credit card. You don't need to have a PayPal account. After clicking "Buy Now", just click where it says "Don't have a PayPal account?" and use your credit card.
No credit card? see here for instructions
If you encounter any problems with the download link or email, feel free to contact me at: