6" x 48" belt sander specifications

Overall dimensions (as per plans)

Sanding belt
152mm x 1219mm
6" x 48"
Overall size
(without edge base)
31 x 62 x 24 cm
12" x 25.5 x 9.5"
Overall size
(edge sanding mode)
76 x 30 x 44 cm
12" x 25.5 x 16.5"
Flat sanding area
15.4 x 41 cm
6" x 16.5"
Minimum inside sanding radius
3 cm
1 1/4"
Weight (with motor, without edge base)
16-18 kg

35-40 lbs
Belt speed
With a 1750 RPM motor and 2.5" pulleys on motor and drive shaft, the belt will run at 430 meters/minute (1430 fpm). This is a moderate speed. You could run yours faster or slower, depending on preferences and motor you use.
Motor
Use an induction motor in the range of 1450 to 3500 RPM, 1/2 hp or 3/4 hp. Top loading washer motors, or furnace blower motors can also be used.

Do not use universal motors (motors with brushes), such as front loading washer motors, vacuum cleaner motors or bench top table saw motors. These run too fast.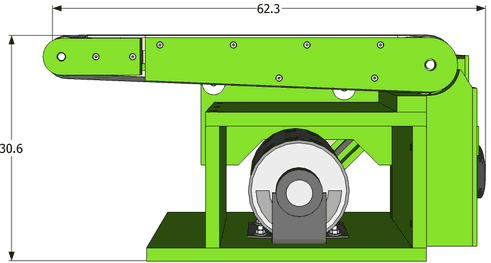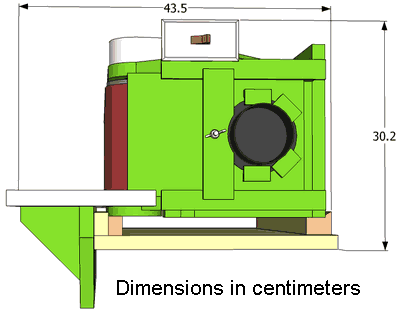 Back to the 6" x 48" belt sander plans