Combination lock plans for sale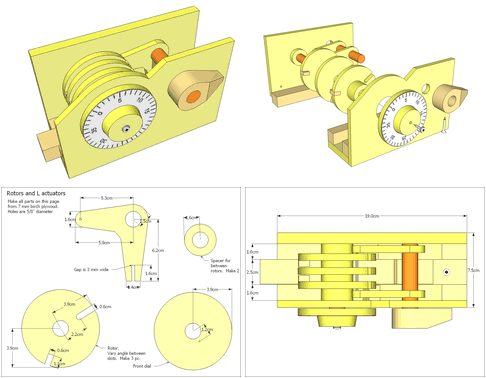 I have a detailed set of plans for the wooden combination lock. The images at left are just some of the drawings from the plans.
The plans include:
Plan views of all the parts
Printable 1:1 drawings PDF file to help cut out the parts
Exploded 3D views of the assembly
Detailed building instructions
Detailed photographs of all the parts as built.
SVG Files for a laser cut version from 6 mm plywood.
A SketchUp model of the lock, which allows you to view and render the lock from different angles, as well as disassemble the lock. SketchUp is a free CAD program.
The plans are in Metric.
The plans are in the form of 5 megabyte download, which you can download immediately after payment via credit card.
Cost: $7
On payment, you will be able to download your plans immediately.
The plans are a 5 megabyte zip file (your computer, Mac or PC, already knows how to open zip files) A download link will also be emailed to you automatically. Some email programs may treat this email as spam, so please check your spam folder if you did not receive the email.
You can checkout with your credit card or PayPal account.

If you encounter any problems with the download link or email, feel free to contact me at: