Router copy carver plans for sale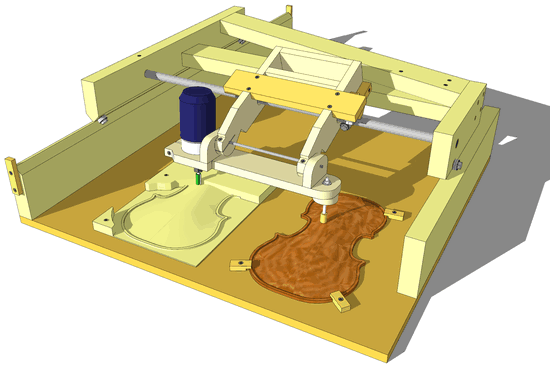 This four axis copy carver is designed to maximize rigidity while keeping construction and material requirements simple. A 3/4" pipe, a steel shaft, 11 rollerskate ball bearings, and some screws, nuts, and bolts are all that is needed (aside from the palm-sized router)

The plans include:
Detailed drawings of every part of the copy carver>
Dimensioned 3D views and assembly drawings
Full-scale 1:1 drawings of key parts, so you just paste them onto plywood and cut them out with a bandsaw.
Detailed instructions on how to build it, with over 60 photos
Materials and hardware list
A SketchUp model of the copy carver, which allows you to view it from any angle, disassemble it, or regenerate each of the views in the plans by clicking on the 'scene' tabs in SketchUp. SketchUp is a free, easy to use CAD program.
More about
this copy carver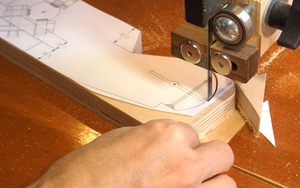 The plans include printable 1:1
cutting templates to simplify construction

See the specifications See what's in the plans
The plans are in metric units, except for drill and dowel sizes, which are in imperial units. You can generate plans in imperial units simply by changing the units to "imperial" in SketchUp under "model info", but the units will not work out to even numbers like they do in metric.
Please also consider these important safety notes
Cost: $14
On payment, you will be able to download your plans immediately.
The plans are a 6 megabyte zip file (your computer, Mac or PC, already knows how to open zip files) A download link will also be emailed to you automatically. Some email programs may treat this email as spam, so please check your spam folder if you did not receive the email.
You can checkout with your credit card or PayPal account.

If you encounter any problems with the download link or email, feel free to contact me at: