Table saw outfeed and left side extensions
Unless you buy a very high end Euroopean style table saw, it seems the saw's table is always a bit too small by default.
I ended up extending the table of my Delta hybrid saw on three sides, nearly doubling the total table area available.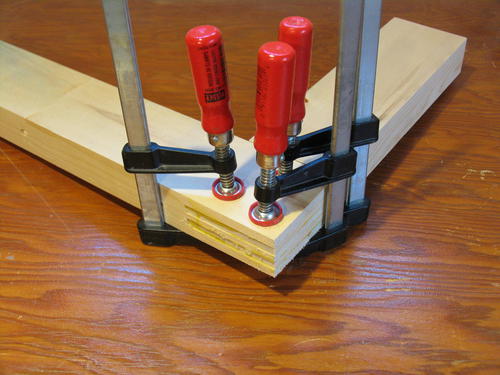 Outfeed table extension
Most people extend the outfeed table by building some sort of table behind the saw. For my saw, I figured I only needed a little bit more room, and didn't want to have a bulky piece of shop furniture standing behind the saw.

My outfeed table extension is bolted to the actual stand of the table saw. It consists of two very sturdy shelf bracket like L shaped pieces of wood. The joint in these brackets is a double lap joint, just to make sure it's sturdy enough.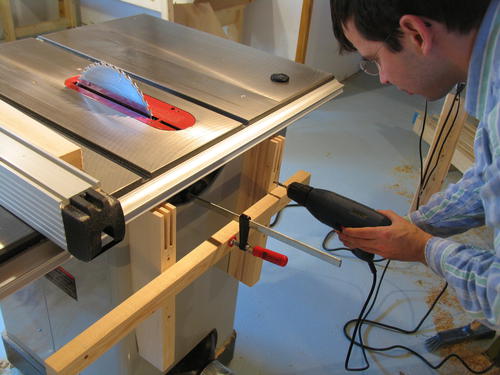 Before I glued the L shaped pieces together though, I drilled the mounting holes for the saw, and then drilled through the pieces into the saw's base. You can see how I clamped two pieces to the saw, and am drilling through them, to make sure I get good alignment for these brackets. That way, I could drill the holes just big enough for the screws.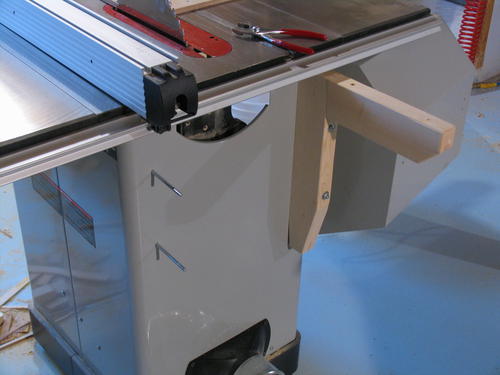 Once the brackets were glued and trimmed to precise shape, it was time to mount them on the saw.
I used 1/4" bolts, about 3" long. I put large washers on the inside of the stand. If I was building this extension again, I'd just make the vertical part of the brackets extend all the way down to the base of the saw, and have the ends rest on the wider base. Really, there is no reason they shouldn't extend down that far,I just hadn't thought of it when I made them.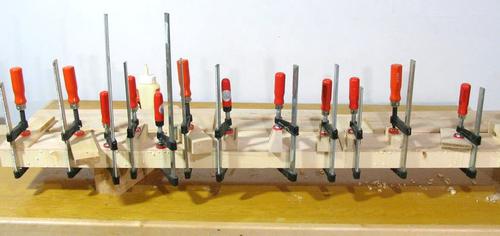 I wanted a hardwood surface for the outfeed table, but didn't want to have to buy thick solid hardwood lumber for this purpose. So I cut 5 mm thick strips off a piece of firewood, and glued them onto some spruce lumber, similar to what I did for this table top but with just one type of wood.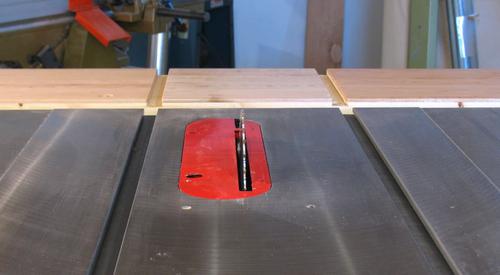 I cut extensions for the T slot in the outfeed extension. These are only a fraction of a millimeter wider than the T slots themselves. That way, they help guide my table saw sled as I push it past the blade.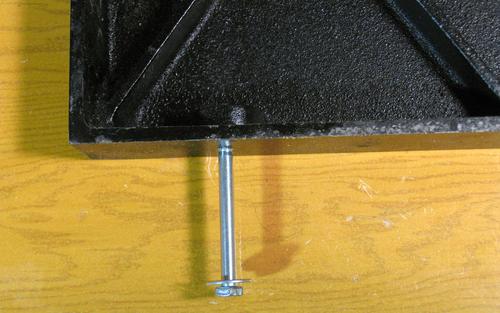 Left side table extension
My old table saw had 60 cm of cast iron extension on either side of the saw blade. Even with the cast iron extensions, my new table saw had slightly less width on the table. Because how I use the crosscut sled on my saw, having more room on he left side of the table is very important, so I decided to extend that side a little bit to bring it up to the 60 cm I had on my old table saw.

I started by drilling some holes into the left side of the left cast iron table saw wing. It turned out that there was already a few spots in the casting that were a little bit thicker, so this was an ideal place to drill and tap holes for 1/4" bolts into.\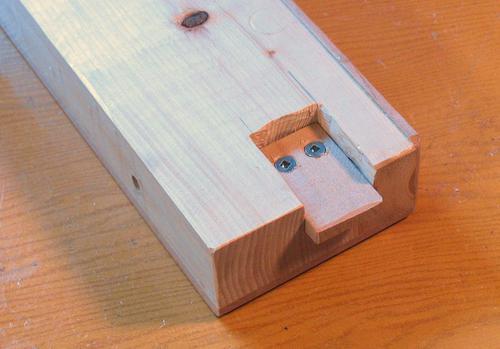 I wanted the left side to get a bit more support than to just hang it off the cast iron wing with some bolts. So I added this wooden tab to project into the front fence rail.
You can also see in this shot how the extension is comprised of a piece of spruce with maple glued to the top (bottom in this view) and side. Solid maple would have been better, but I didn't have any lying around, so I just cut some maple to 5 mm thickness and glued it to a piece of spruce.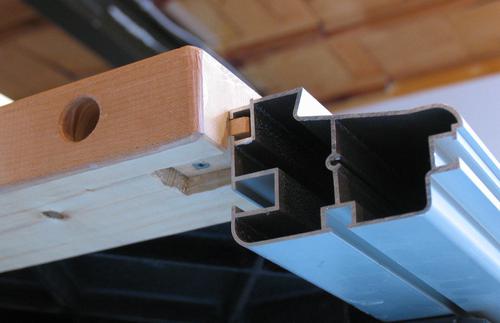 Here you can see how this tab fits into the fence rail for more support.
I also screwed a piece of wood between the left extension and the back extension to give more support on the back (not shown).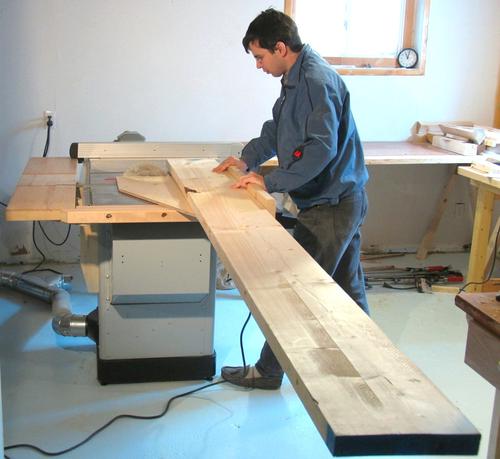 And here is why I need the left side extension. This is me cutting the end off a 8' long 2x10 with my table saw sled. Supported only by the sled. I have to press down on it to keep it from rocking up. But I can get very precise and clean cuts that way.