Wooden 12" jointer plans for sale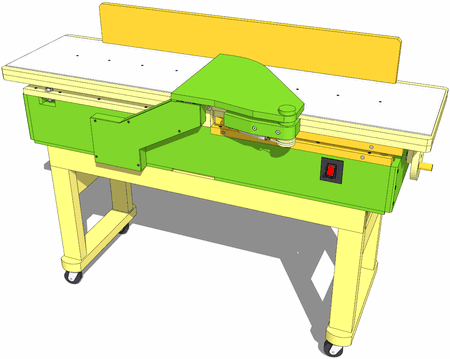 12" (30 cm) wide jointers are very expensive and heavy to buy, but small 12" thickness planers can be very inexpensive. These plans are for converting one of these small planers into a 12" Jointer that is inexpensive and light.

This jointer is designed to be buildable mostly from parts of an inexpensive 12" thickness planer and wood. Other than screws, the only metal parts are some 3/8" (10 mm) steel rods, and some 1/8" (3 mm) metal plates to put onto the wooden tables.

The plans include:
Detailed drawings of every part of the jointer
Dimensioned 3D views and assembly drawings
Full-scale 1:1 drawings of all the parts, so you can easily check your parts without the need to measure.
Detailed instructions on how to build it, with over 90 photos
Materials and hardware list
A SketchUp model of the jointer, which allows you to view it from any angle, disassemble it, or regenerate each of the views in the plans by clicking on the 'scene' tabs in SketchUp. SketchUp is a free, easy to use CAD program.
More about
building this jointer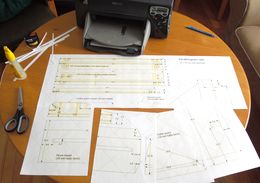 The plans include multi-page
printable 1:1 patterns of the parts

See the specifications See what's in the plans
The plans are in metric units, except for drill and dowel sizes, which are in imperial units. You can generate plans in imperial units simply by changing the units to "imperial" in SketchUp under "model info", but the units will not work out to even numbers like they do in metric.
Please also consider these important safety notes
A French language version of the plans is also available. After buying the plans, you can choose to download the plans in English, French, or both. French translation provided by Alain Vaillancourt (thewoodpecker.net)
Cost: $16
On payment, you will be able to download your plans immediately.
The plans are a 10 megabyte zip file (your computer, Mac or PC, already knows how to open zip files) A download link will also be emailed to you automatically. Some email programs may treat this email as spam, so please check your spam folder if you did not receive the email.
You can checkout with your credit card or PayPal account.

If you encounter any problems with the download link or email, feel free to contact me at: