What happened to the tractor shed, and moving -- again! (2018)
It's been a while since I posted something on my website or YouTube channel. I have had a chronic bicep tendonitis problem in my right arm since an injury in 2015, so I have been doing all the heavy lifting with my left arm, but this year the problem got worse again and while pushing forward on the tractor shed, I also developed tendonitis in my left arm, which left me in constant pain for about two weeks and not being able to lift even a piece of 2x4 lumber.
I realized I needed to give it an extended break, though my understanding is that tendonitis takes 6-12 months to heal, if left alone.
This got us thinking. I really can't do the sort of projects where I need the tractor, and it's too big of a tractor anyway, so rather than trying to finish the shed, I should just sell the tractor. But living on a big property is kind of frustrating when I can't maintain it. And with young kids taking up so much of our time as it is, maintaining the property is a challenge even without tendonitis issues. And we end up having to drive everywhere (taking up more time), and there's no place to take a walk to in the winter. So perhaps a rural property doesn't make that much sense for us.
Rachel's dad also had a small stroke (but fully recovered), and with me not able to do any work anyway, we took a week to visit her parents in Fredericton, which we quite enjoyed.
So if we are going to make a move, we might as well make it a big one, and with two little ones, being close to grandparents would be appreciated by them and by us! But I didn't want to announce this until we were sure. We have now bought a house in Fredericton, with a closing date of Sep 12 2018.
So the next couple of months are going to be crazy, getting this place ready for sale, getting rid of some stuff (I have duplicates of a lot of tools), and packing things up. Me being very limited in what I can do now isn't helping either. We are planning on hiring movers, but even so, that leaves a lot of odds and ends for us to do.
When we moved here, we said "we are never moving again", but less than a year and a half later, we are facing another move :( Hopefully this will be the last one for some time. At least the new house is not in need of renovations.
One of the things to give a way is what I have of the tractor shed, if anybody wants to haul away the pieces and erect it at their property (if you live a reasonable distance from Almonte, Ontario). I even have the sheet metal ready for it.
Upate: I found a taker, not far from here, who hauled it away August 6 2018. I didn't end up asking any money money for the roofing I bought. What's in it for me is that he plans to film some of the putting it up, so I will be able to put together a "tractor shed, part 2" video.
I also have too many table saws, pantorouters, bandsaws, planers lathes and jointers.
As for future videos - I figure once we are moved and settled and I'm not compelled to lift stuff, hopefully the tendonitis thing will slowly get better. And the chronic problems in my right arm always eased up during the winters so far, when there was less to do outside.
I don't anticipate making more project videos until well after the move is done. I'd like to keep making videos, but these will probably be mostly vlog style videos, probably more on my second channel because I know not everyone is interested in that sort of stuff. That said, I quite enjoy watching other people's life adventures unfold on YouTube, like Darbin Orvar or Mike and Lauren, so I'm sure at least some will be interested in watching videos on that.
Anyway, it will be a new adventure. The move will be a challenge. I'm very much looking forward to being done with this move. Just how we will accomplish that is something I'm still unsure about.

Why we gave up on the country life

Back to my Woodworking website

See also: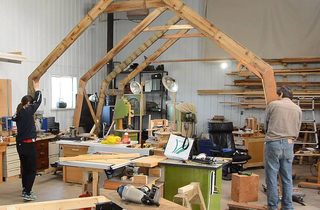 Tractor shed build, part 1