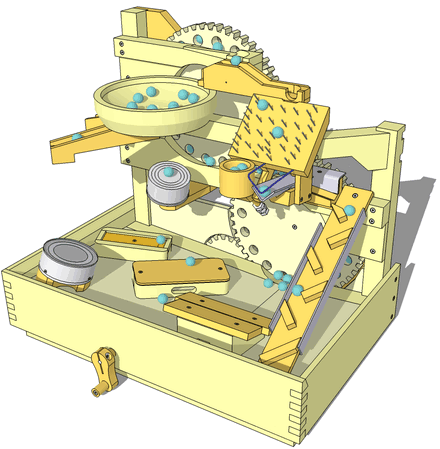 Marble machine 2 plans for sale
I have put together a very detailed set of plans for marble machine 2.1. You can see a preview of the plans so you can get a better sense of what's inside before buying.

The plans include:
Detailed instructions for building the machine, including over 250 photos.
21 pages of drawings, scaled 1:1 for pasting onto the wood and cutting out
(and because the plans are in electronic copy, you can always print them again if you make a mistake)
Multi-page 1:1 drawings for the large parts (you paste together several regular sized pages)
All drawings are included as images in HTML as well as PDF
Offline / more easily printable version of the building instructions
A SketchUp model of the machine, which allows you to view the machine from any angle, disassemble it, or regenerate each of the views in the plans by clicking on the 'scene' tabs in SketchUp. SketchUp is a free, easy to use CAD program. (you don't need sketchup to view the plans).


Just some of the many drawings from the plans below ...


A peek inside the plans...

The completed machine is 52 cm wide, 35 cm deep, and 47 cm tall.

The plans are in metric units, except for drill sizes, which are in inches and metric.

Cost: $16

On payment, you will be able to download your plans immediately.
The plans are a 18 megabyte zip file (your computer, Mac or PC, already knows how to open zip files) A download link will also be emailed to you automatically. Some email programs may treat this email as spam, so please check your spam folder if you did not receive the email.
You can checkout with your credit card or PayPal account.

If you encounter any problems with the download link or email, feel free to contact me at: