John Kutyba's pantorouter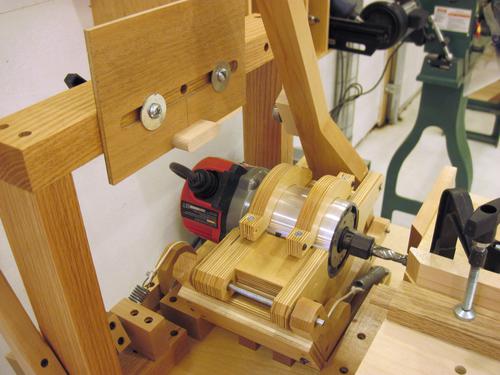 John Kutyba writes:
Hello Mr. Wandel,
I enjoy your web site and tune in every Monday to see what's new. I'm a professional furniture maker by trade and love your approach to woodworking, you're extremely creative. I bought your pantorouter plans and set off to build it. Like everyone who does, I tweaked it to my eye. I used 1/4 inch steel rods and bronze bushings as well. I also bought used linear glides off eBay and they're great, I got them for 50 bucks I thought that was worth not having to make them out of drawer glides. I also made a different fence with an adjustable stop block. I thought I would send a few pictures of my tweak on your great plans and a picture of my shop, I hope you enjoy. I love your site and hope to hear from you on what you think of my machine. Have a great day.
Sincerely, John J. Kutyba III
Eagle Eye Custom Woodworking
Wisconsin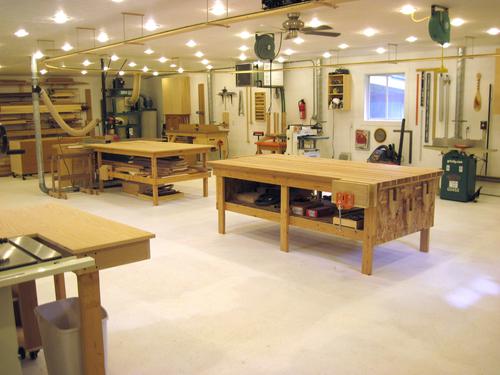 The above pictures and the one at left were all I included on the site, until a reader, Russel, noticed the model train track along the ceiling, and started asking about it. I asked John Kutyba. His reply, with photos below.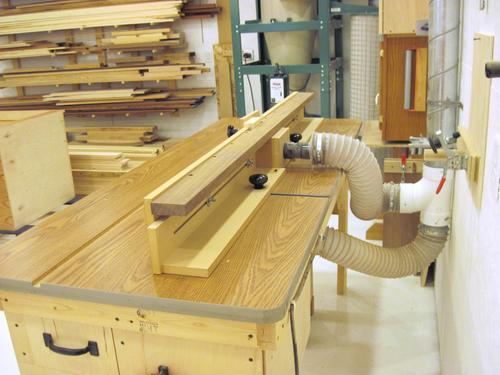 Matthias and Russell:
Thanks for the email. I've included a few details for you and also a few more pictures. A couple of the dust collection and a couple of the train.
Dust collection is the biggest concern in my shop. I made sure to size the dust collection to not only the size of my shop but also took into consideration the distance of certain tools from the collection unit. I have a 7 inch main line running the length of the shop with 4 inch drop lines. I kept the 90 degree bends to a bare minimum. I've got the tools that produce the biggest chips closer to the unit. I also use a shop vac with my hand routers and sanders. We spent a lot of time laying out the dust collection before we put it in and that has paid off greatly. In order to maintain full suction I riveted and taped all the joints to help keep it as air tight as possible. As well as having good dust collection, as a rule I always clean up before I leave the shop. A couple of minutes for a quick sweep every time I'm in there helps keep things tidy.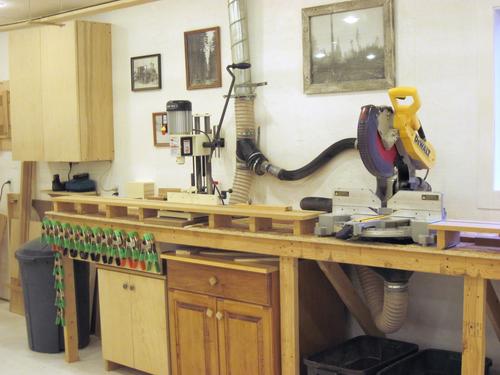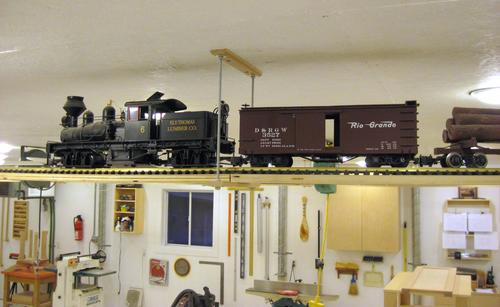 Now for the fun part. The train is G scale outdoor railroad equipment and tends to be a little more robust and can handle a little dirt and dust. Along with a love of woodworking, trains are a big interest of mine. I figured I might as well use the vacant area above my head to incorporate my other hobby. I hung some threaded rod from the ceiling and connected them with some cut up chunks of leftover bead-board. I then supported the track with maple ply. I laid the track out on the floor and used a plum bob to transfer it to the ceiling. It's fun to listen to the train go around while I'm in the shop working.
Feel free to email me with any other questions. I love to talk shop with others that share my passion.
John Kutyba III


Eagle Eye Custom Woodworking, Wisconsin
I put this article together in June of 2012.
April 2013: See the cover at left. I hadn't seen a picture of John, but I immediately recognized the model railway track along the ceiling!
Congratulations, John!

You can see John's pantorouter just below "Rebuilt" in the line "Post-Katrina Rebuilt Shop". So the pantorotuer now made it on a magazine cover, in a way!