Mitja Narobe's wooden bathtub build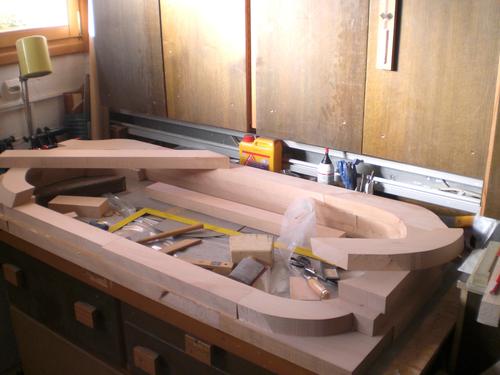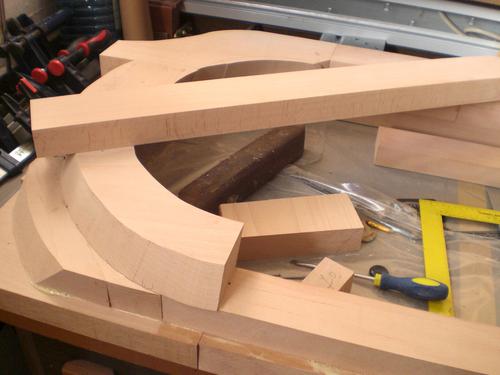 Mitja, from Slovenia writes:
The whole bathtub is made of steamed beech wood, and the inlays are made of parts of mahogany, left over from my bike frame build :)
All parts are cut with a bandsaw and miter saw. I used 2-inch thick beech wood.
After the first layer, every 2nd row I drilled about 20 holes through 3 layers for 1/2-inch wooden dowels. You can see the drill and dowels. Those dowels strengthened the whole construction. I used special expendable waterproof wood glue (made in Slovenia).
The whole bathtub has not a single screw or nail. No metal at all -- only wood!
I made a simple sled for my router, and I used the router to flatten the outside of the bathtub.
For rough sanding I used an angle grinder with a special rasp disc and sanding discs. And then a lot -- really a lot -- of hand sanding. I started with 60 grit paper and finished with 240 grit.
The varnish is a special varnish (made in Germany) for the underwater part of wooden boats. It's resistant for salt water and oils, it's non abrasive and can withstand temperatures of 130 degrees Celsius when it's hardened. It's a two base polyurethane varnish. I applied it in 12 thin layers! It's impossible to crack :)
I spent about 200 hours over 5 months to finish it. It weighs about 200 kg (440 pounds).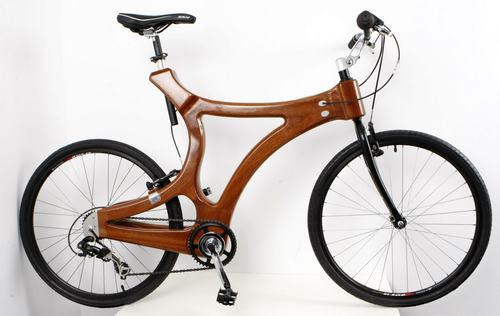 Matthias adds:
Mitja also emailed me some pictures of a unique beech and Mahogany wooden bike that he built. He has it for sale on Etsy (see the listing for more details). Mitja didn't take photos of the construction of the bike, (if he had, I would have posted them here)
The price is not cheap. Mitja says about the price:
I know it is quite a lot, because Etsy, PayPal, Visa and my bank all take some percentage. That adds to about 25%, and that is factored in to the price. If anybody wants to buy my bike, they should contact me first. (mitja_narobe at hotmail. com)
In a way it's a lot, but it's the only one of a kind in the world, tested and handmade. It's certified as well in Slovenia as a new model/trademark
Mitja