Router table plans
These plans are based Dejan Kovac's router table, with some minor changes made.

Dejan used T-slots in the fence. These were made by resawing the MDF, cutting the slots, and then sandwiching them back together. This plan allows the fence panel to slide with slots in the back of the fence.

Dejan added panels above the drawers on the sides to prevent sawdust from getting thrown into the drawers. I changed this plan to have the enclosure around the router go all the way up to the table, so that chips can't be thrown into the drawers.

The drawers are drawn as just two types to simplify the plans.

Click any image to enlarge. There is also a printer optimized version.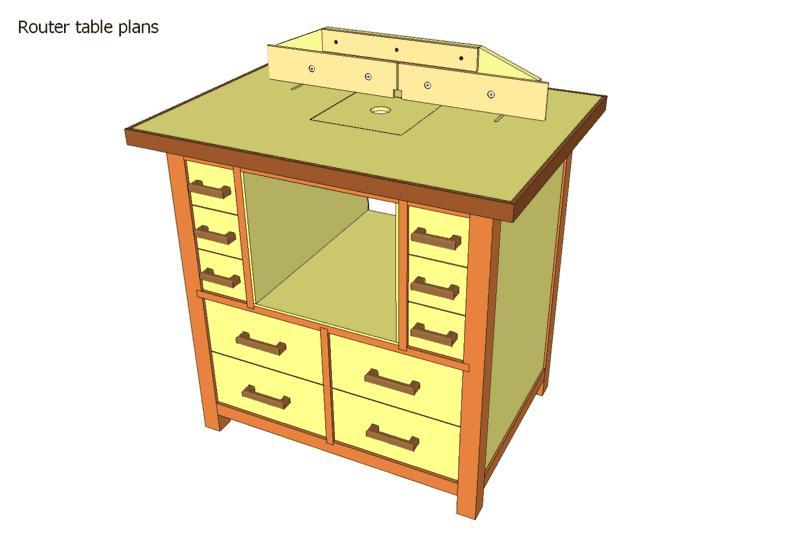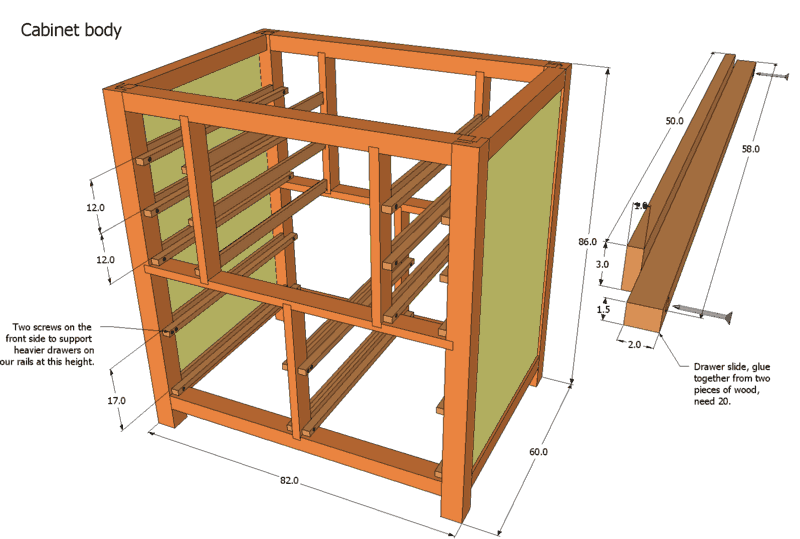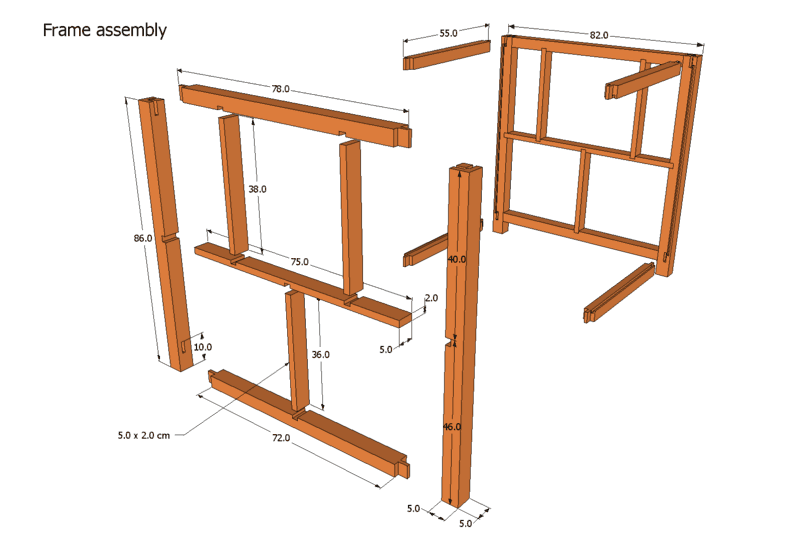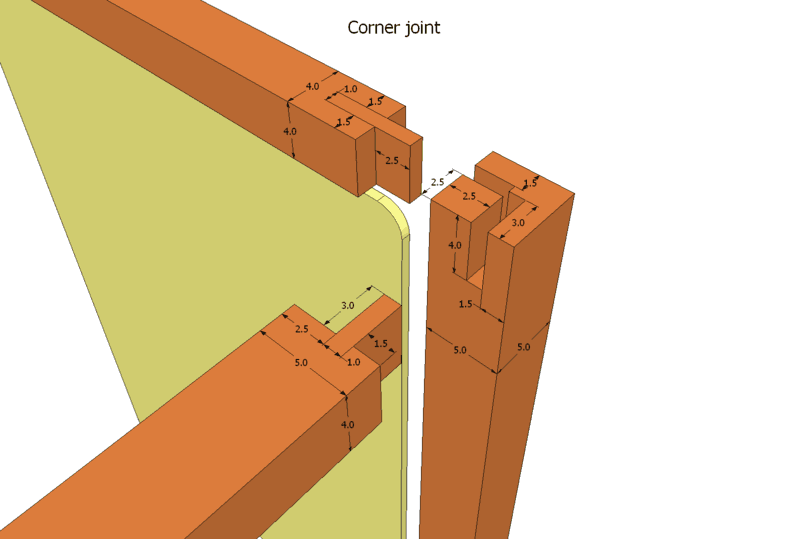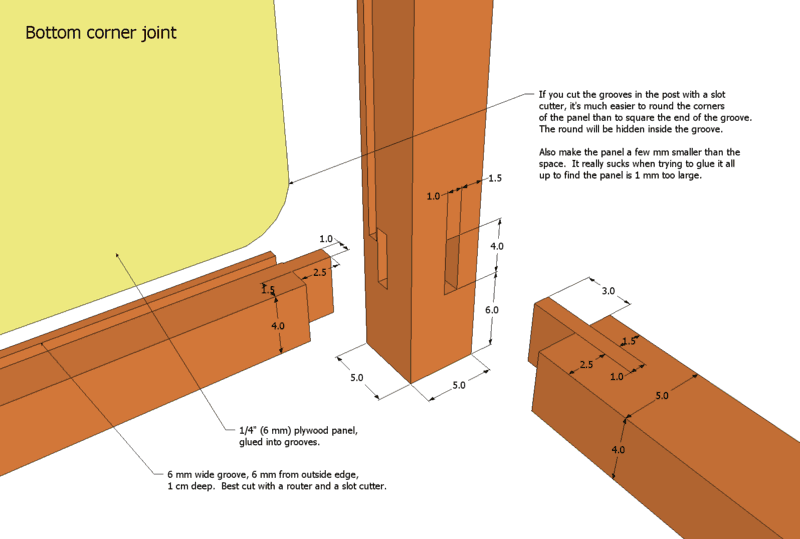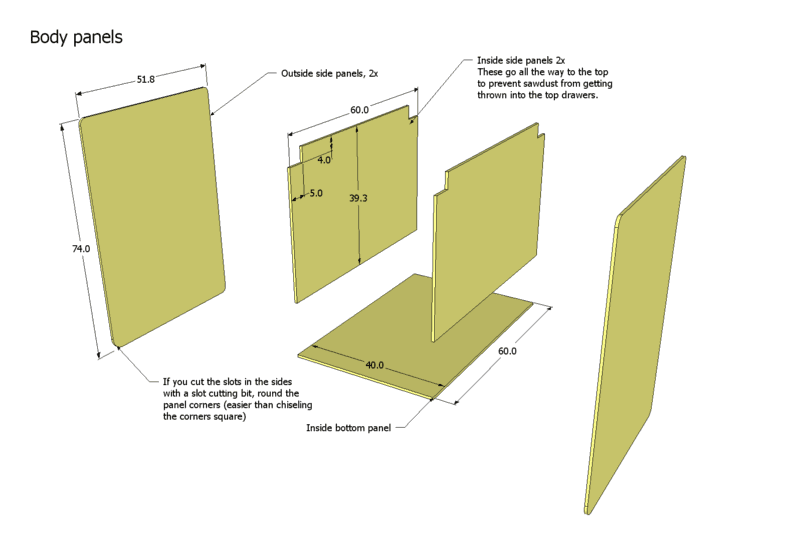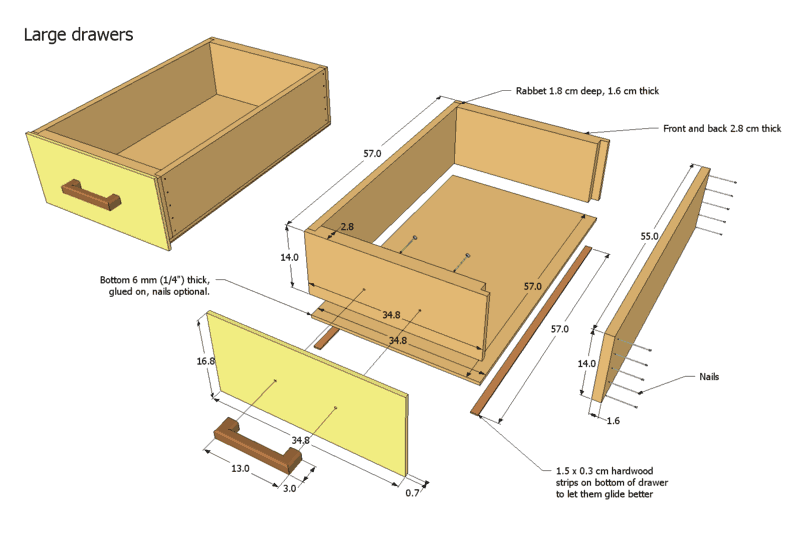 More details on making drawers and drawer handles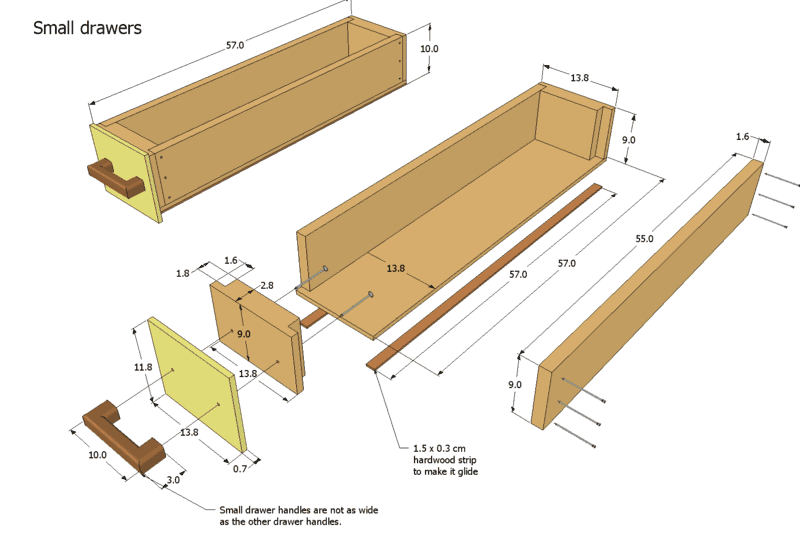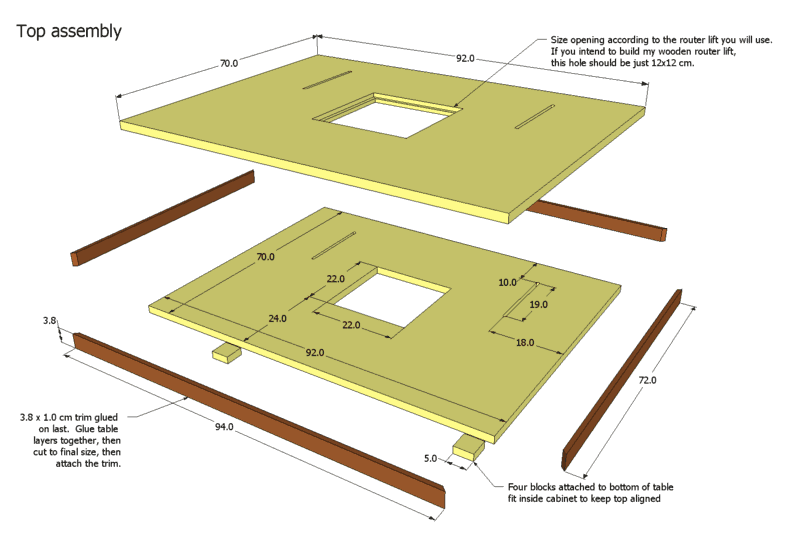 It's best to know what type of router lift you will be using before you cut the hole. If you are going to build a wooden router lift then the hole only needs to be 12x12 cm.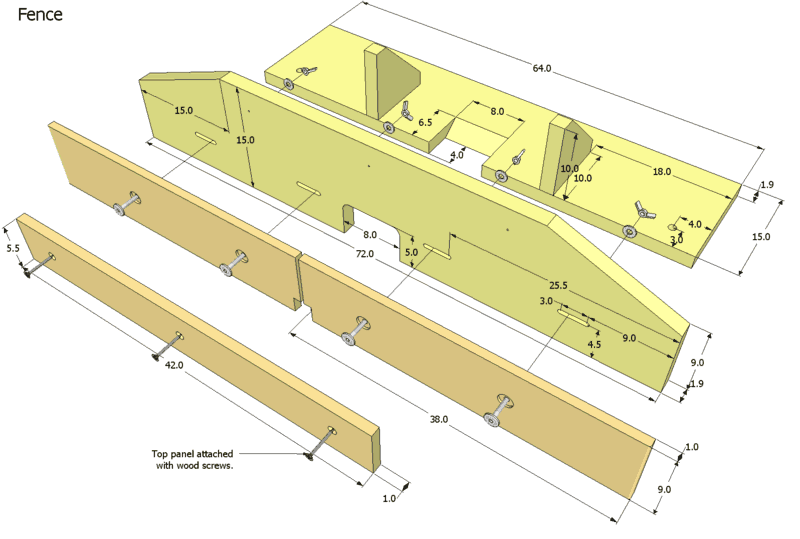 Cut list
Qty
Dimensions
Part

Frame parts
4
5.0 x 5.0 x 86.0
Frame posts
4
5.0 x 4.0 x 78.0
Frame front & back horizontals
4
5.0 x 4.0 x 55.0
Frame side horizontals
2
5.0 x 2.0 x 75.0
Front & back middle horizontal
4
5.0 x 2.0 x 38.0
Left and right of router box vertical
2
5.0 x 2.0 x 36.0
Between botttom drawers vertical

Body panles
2
74.0 x 51.8 x 0.6
Side panels (plywood)
2
60.0 x 39.3 x 0.6
Router box side panels (plywood)
1
60.0 x 40.0 x 0.6
Router box bottom (plywood)

Large drawers
8
55.0 x 14.0 x 1.6
Large drawer sides
8
34.8 x 14.0 x 2.9
Large drawer front & backs
4
34.8 x 16.8 x 0.7
Large drawer fronts
4
34.8 x 57.0 x 0.6
Large drawer bottoms (plywood)

Small drawers
8
55.0 x 10.0 x 1.6
Small drawer sides
8
13.8 x 10.0 x 2.9
Small drawer front & backs
4
13.8 x 10.8 x 0.7
Small drawer fronts
4
13.8 x 57.0 x 0.6
Small drawer bottoms (plywood)

Table top
2
70.0 x 920 x 1.9
Top layer (plywood or MDF)
2
3.8 x 1.0 x 94.0
Top trim front (use hardwood)
2
3.8 x 1.0 x 72.0
Top trim side (use hardwood)

Fence
1
72.0 x 15.0 x 1.9
Fence back (plywood or MDF)
1
64.0 x 15.0 x 1.9
Fence base (plywood or MDF)
2
10.8 x 10.0 x 94.0
Fence braces (plywood or MDF)
2
38.0 x 9.0 x 1.0
Fence face (use hardwood)
1
42.0 x 5.5 x 1.0
Fence top face (use hardwood)