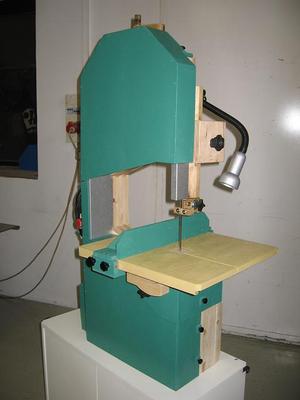 Tamás Petõ's bandsaw
Tamás Petõ writes:
Hello Matthias,
I have just finished the bandsaw whose plans you sent me a few months ago.
Although I found your plan really great, I didn't exactly copy your bandsaw (as you will see, I used different materials and techniques).
Anyway, working with your plan was a real pleasure for me, I really enjoyed it.
Thanks for all
Best wishes
Tamás Peto
Hungary
I used different types of wood for the bandsaw.
The frame is made of pine, the guide and the wheel mounts are made of acacia, and I used plywood as well.
Since the right top post of frame got warped, I couldn't apply the wheel mount frame in your plan, so I had to create an other one, that I screwed on to the posts.
On the bottom of wheel mount I fixed another piece of hardwood in order to keep the wheel firm together with the other clamp bolt.
I modified the enclosure of the bandsaw too: mine is entirely made of plywood, with a piece of sheet metal for the blade cover.
There are separate frames for both the top and bottom enclosure with attachment lugs.
Nevertheless, they are not as easily removable as yours, except the belt cover, which I equipped with a door latch.
See also:

Back to my Woodworking website