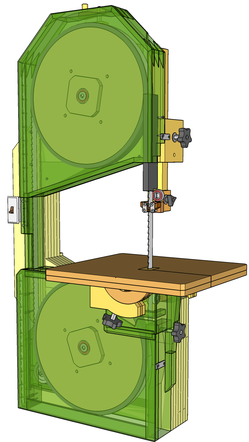 20" Bandsaw plans for sale
I have produced detailed plans for the 20" wooden bandsaw. I love showing off these plans, and have included a preview of the plans so you can get a better sense of what's in the plans before buying.

The plans include:
Detailed drawings of every part of the bandsaw
A full-scale template of the frame (spread over many pages, with alignment grid)
A total of 35 pages of drawings and illustrations
Detailed instruction on building the saw, including over 300 photos of the construction
More photos of the finished bandsaw
The plans also include the SketchUp CAD model of the bandsaw, which allows
you to view the bandsaw and parts from any angle. SketchUp is a free, easy to use CAD program. (but you don't need SketchUp if you just want to build the bandsaw from the plans)
A peek inside the plans... See the specs





The plans are in metric units, except for drill and dowel sizes, which are in imperial units. You can generate plans in imperial units simply by changing the units to "imperial" in SketchUp under "model info", but the units will not work out to even numbers like they do in metric.
Please also consider these important safety notes

A French language version of the plans is also available. After buying the plans, you can chose to download the plans in English, French, or both. French translation provided by Alain Vaillancourt (thewoodpecker.net)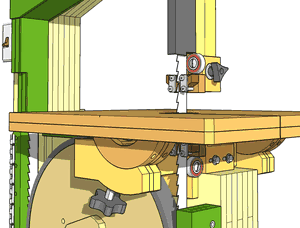 The plans and CAD model are very detailed
Cost: $25
Not sure which size bandsaw to build? You can get the 16" and 20" plans for $29 or 3 plans for $33
On payment, you will be able to download your plans immediately.
The plans are a 20 megabyte zip file (your computer, Mac or PC, already knows how to open zip files) A download link will also be emailed to you automatically. Some email programs may treat this email as spam, so please check your spam folder if you did not receive the email.
You can checkout with your credit card or PayPal account.

If you encounter any problems with the download link or email, feel free to contact me at: