Gear template generator program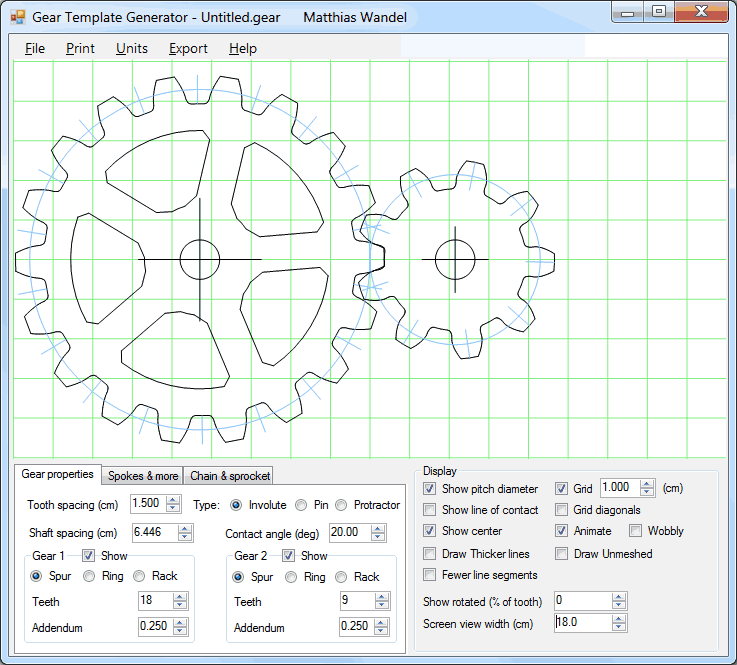 Download free evaluation copy
One file, just run it. No install necessary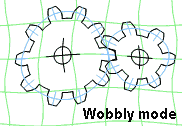 The free evaluation copy can do everything that the full version can do, but all output is shown "wobbly". It allows you to fully explore the program's capabilities, but the display is a little distorted.
You can also read the full manual online without buying the program.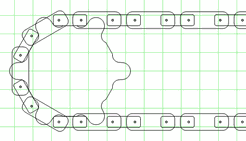 Chain and sprocket mode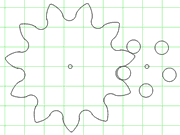 Lantern/cycloid gearing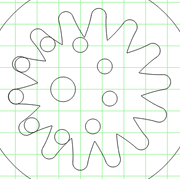 Internal lantern/cycloid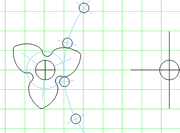 3-tooth against lantern gear
The gear template generator program is a program for printing paper templates for cutting out gears.
It can do everything that the online gear template generator can do, and much more.

Things that the offline gear template generator can do: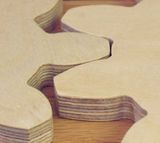 Involute spur gears (spur, ring, and rack)
Planetary gear sets (using ring gears)
Calculate small gear tooth undercut shapes
Lantern / cycloid gear pairs
Block chain and roller chain sprocket calculations
Print gears across multiple pages
Show grids with diagonals to help align multi-page printouts
Support for metric and inches dimensions
Right angle gear mode see here
No internet connection required
Export DXF, HPGL, CSV, Sketchup, PDF and bitmaps
For more details, see the Online help or watch the Demonstration Video
The doumentation is also available in French but the program is English only

System requirements:
Windows XP, Vista, 7, 8 or 10. The easiest way to check is to download and try the eval version,
which has exactly the same requirements. If it won't run click here
It will not run on a Mac or Linux (yes, it may work with WINE, try the eval before buying)

Cost: $28

On payment, you will be able to download your software immediately.
A download link will also be emailed to you automatically. Some email programs may treat this email as spam, so please check your spam folder if you did not receive the email.
You can checkout with your credit card or PayPal account.
If you encounter any problems with the download link or email, feel free to contact me at: