Gear template generator program demonstration videos
I covered the chain and sprocket mode in a separate video below:
Matching existing gears (making a toy gear for a workbench toy)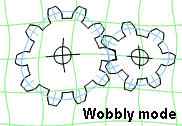 Download the free evaluation copy
One file, just run it. No install necessary.

The free evaluation copy can do everything that the full version can do, but all output is shown "wobbly". It allows you to fully explore the program's capabilities, but the display is always a little distorted.
For more details on what the program can do, see the Online help
For more information, or if you would like to buy a copy of this program,
please see the Gear Template Generator main page.