Hector's panel saw
Hector Acevedo writes:

About 10 years ago, I got tired of wrestling big sheet panels on my 10" table saw. It was uncomfortable, risky and imprecise. I can get sheet goods cut down to size at my wood supply store but about plus or minus 1cm is the best precision you can hope for.

I figured that I could have those panels ripped into manageable chunks but what I needed was a precise and safe machine to crosscut them to FINAL size from the start. The theory worked well and leftovers are much more easily stored, and eventually used.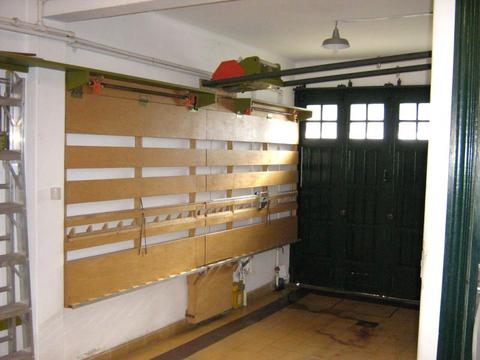 The solution to the crosscutting problem was a panel saw. So I scrounged the web for photos, plans, etc. and decided to design one from scratch. It was also necessary to fit it into the available space it had to share with my car.
This last requirement was met by making the panel support grid to fold flat against the wall when not in use and with a saw guide and carriage that lift upwards against the ceiling (see picture at left). With careful design and stout construction, plus some built-in adjustment, the approach has worked flawlessly with no major adjustments required over the years.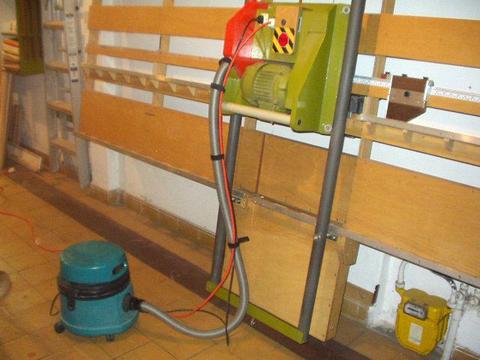 A fold-out shelf was incorporated at a convenient height to support smaller/thinner (less wide) work pieces. Saves pulling the carriage all the way down. The micro-adjustable stop is a two-part unit. The lower part may be un-mounted to leave a lower height stop for certain operations.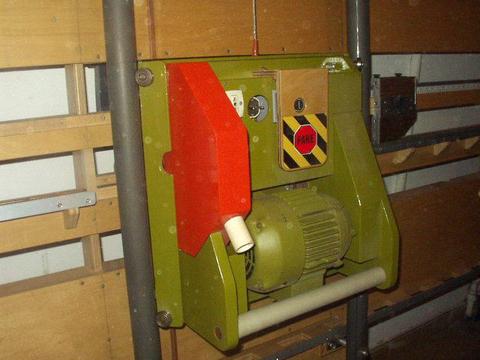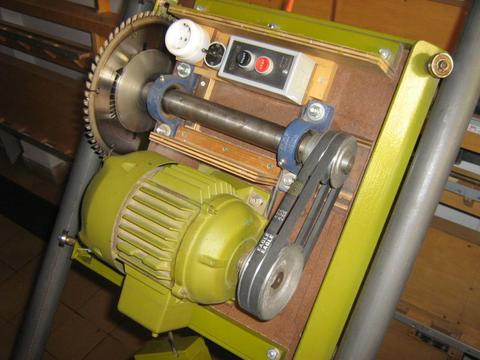 The carriage is supported by eight 30mm x 10mm ball-bearings mounted on eccentric (adjustable) shafts. The carriage runs on 49mm steel tubes. These are joined at both ends with 50mm x 6mm steel angle iron.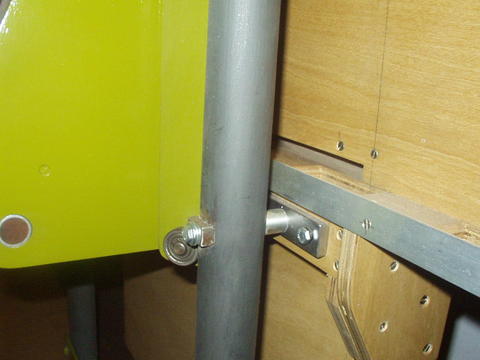 There are two 19mm aluminum plugs that register on two adjustable steel plates when the carriage frame is lowered to its working position. These have 1/4" bolts to fix the whole unit down. The adjustable steel plates allow precise 90° positioning of the tubes/carriage with respect to the work piece support.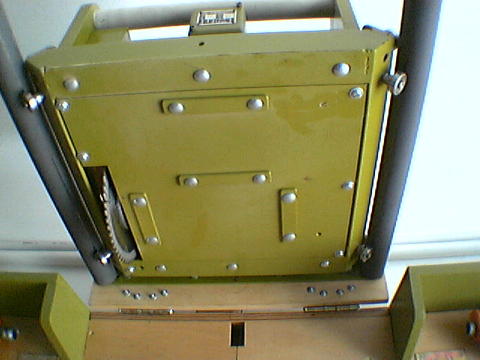 The carriage itself is built on a frame of 50mm x 6mm steel angle with a 28mm thick plywood laminated base for the motor and blade arbor. The arbor is 38mm diameter steel and runs on two SKF ball-bearing pillow blocks. The saw blade is supported with 140mm diameter stiffeners. Twin V-belts are used.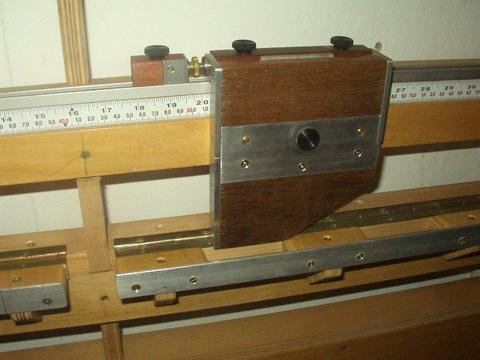 Stop with micro-adjustment, above the fold-out shelf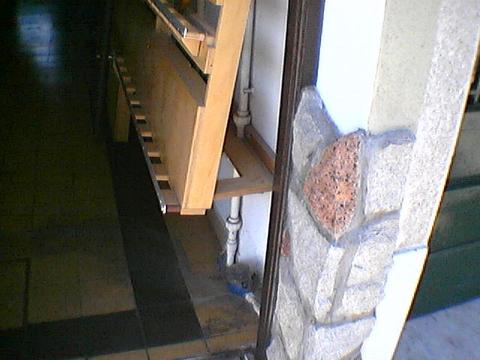 A tight fit in the garage.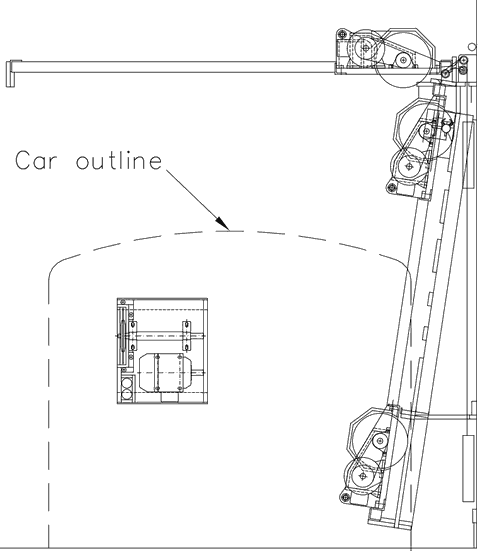 The specifications of the panel saw are:
| | | |
| --- | --- | --- |
| | Support Grid size | 3600mm x 1400mm |
| | Crosscut capacity | 1150mm |
| | Crosscut depth | 57mm |
| | Crosscut width | 1800mm |
| | Length of work piece | Limited only by available lateral space |
| | Blade diameter | 250mm, 3mm kerf, crosscut type |
| | Blade speed | 4000 rpm |
| | Motor | 1.5 HP 2800 rpm |
| | Counterweight | Lead 37K500 300mm x 250mm x 50mm |
| | Dust extraction | Connected to shop vacuum |
You can download this drawing in PDF format or in DWG (AutoCAD) format