Box joined shelf brackets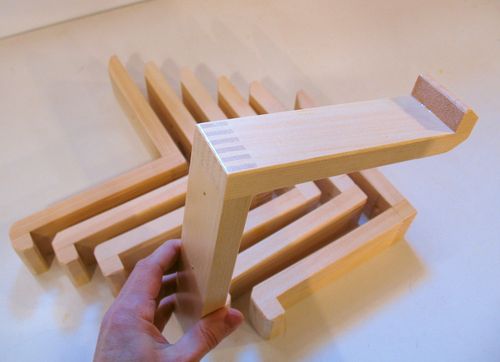 After I built my fancy box joint jig, I was keen to find more uses for it. I was running out of room on my lumber rack so I decided to make some shelving brackets to hold some lumber on the wall opposite to it near the ceiling.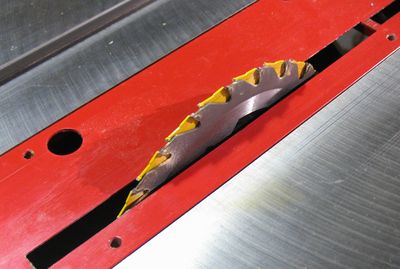 I wanted the individual fingers to be approximately 4 mm thick. This is thicker than a saw blade, but still thinner than what can be done with a dado set. Combining a thin kerf 7 1/4" blade and a regular kerf 7 1/4" blade produced about the right thickness. With a 0.2 mm spacer between the blades, it turned out to be just the right thickness to work with two turns worth of advance on the 42 tooth gear against the 16 tooth gear on my fancy geared box joint jig. I was lucky that the two blades had exactly the same diameter. 7 1/4" blades are often a bit larger or smaller than nominal, so not just any pair of blades can be combined like that.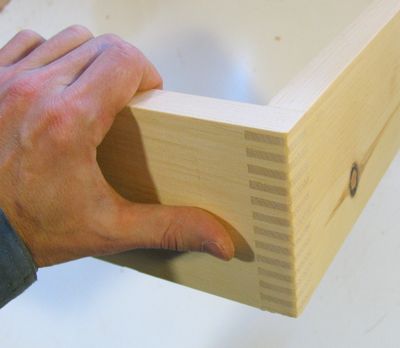 I made several L shaped box joined parts out of boards, one of which is shown at left. I then ripped the width of the brackets out of them afterwards. The piece at left was enough for two brackets.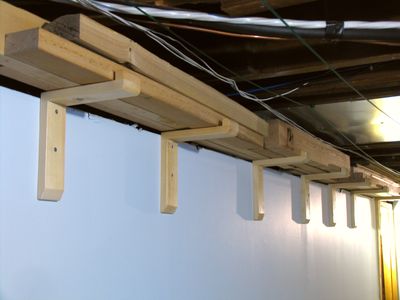 The only thing that holds the brackets up is the strength of the box joint. Partly this is a bit of a test of the strength of a box joint. If I wasn't keen on at the same time putting the joints to the test, I might have added some sort of diagonal splines to the brackets, or used thicker material.
Or maybe I just made them that way because I can! :)
I loaded them up with the heaviest pieces of hardwood that I have. I don't dig through those pieces as often, so it's ok to have them in a relatively awkward spot. They are about 182 cm (6'1") off the floor - high enough for most people not to bang their head against them. And the door frames in my basement are lower at any rate.