Behind-the-couch shelf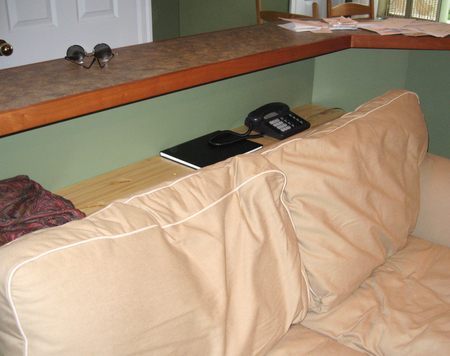 One of the advantages of having a woodworking workshop is to have the ability to sometimes build some odd shaped piece of furniture for a very specific purpose.

The spot where I keep my couch in my house has a ledge behind it. To avoid bumping my head against this ledge, I keep the couch about 25 cm from the wall. But the resulting gap just always invites things to fall off the ledge and into the hard to reach spot behind the couch.

So I built a floor standing shelf to go in that spot.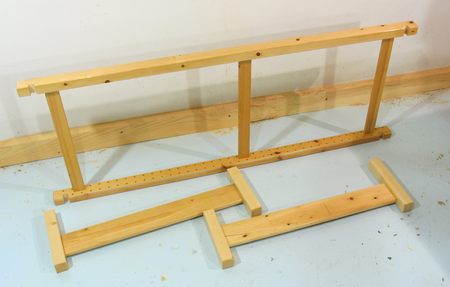 Only the top of the shelf is visible when its behind the couch, so I didn't much care what the rest of it would look like. I made two legs which I mortise and tenon joined, of course. To brace the legs vertically, I used part of a leftover frame from some Ikea shelving.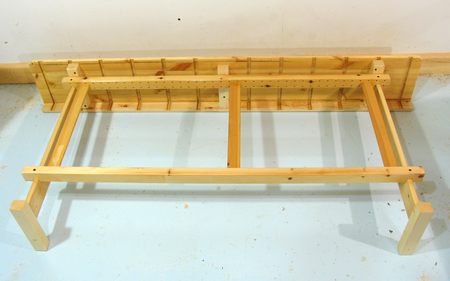 I made the shelf itself from a wide board that had a lot of rabbets cut across it. I picked that board off the curb, and planed it down. I can only assume it was also part of some Ikea shelving contraption. The board was wider than I needed it, so I glued the part i had ripped off as a ledge on the front, to give the shelf some stiffness, and make it look more substantial.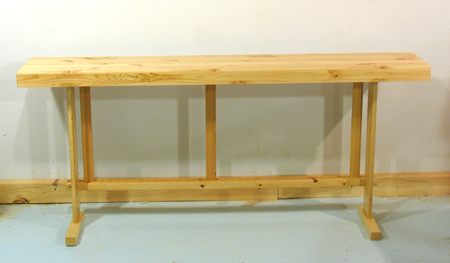 And here is the shelf, standing up. It looks a little bit flimsy, but I sat on it in the middle, and it held my weight just fine, so it's strong enough.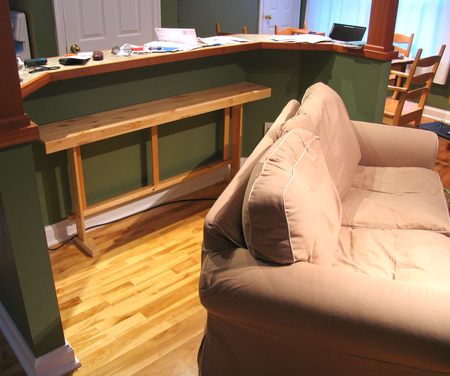 Next was to set it up behind the couch. With the couch slide back in place, all you can see is the top of the shelf.
It's a handy place to put things like the phone, cushions, notebooks, etc..
And except for the horizontal part of the legs, it's entirely made from recycled lumber. And the bits of new lumber that I used were actually "cull lumber". The most expensive part was the varnish - I probably used about $1.50 worth.
I builtthat in 2009. Some years later (2014) I needed room for some books, so I replaced this shelf with some boxes to hold books, of the same dimensions.

See also: