Round dining table plans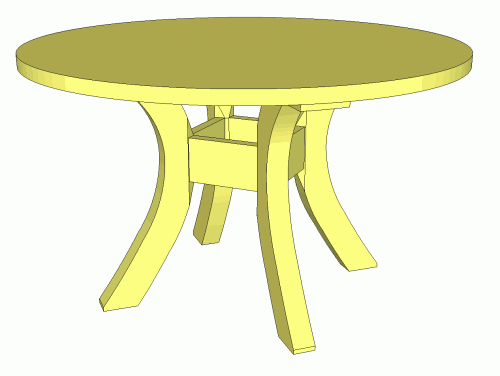 This page also available in French
This page contains plans for my Round dining table. For more information on the construction of this table, read the construction article
The plans are for a table 72 cm high and 120 cm in diameter.
Click on any image below for a larger view suitable for printing out.
Legs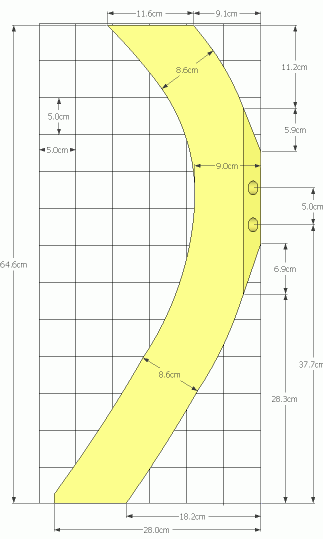 The holes in the legs are 3/4" in diameter, and are drilled 5 cm deep. Two legs are as shown, while two further legs are made as a mirror image of the legs shown.
Use a 1/2" radius router bit to round the curved edges of the legs. For simplicity, the legs are shown without the corners rounded.

Leg brace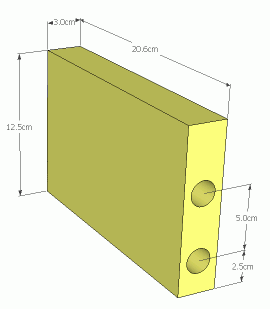 The leg brace connects the legs together.

The holes are to be drilled 5 cm deep, and 3/4" in diameter.
The holes are drilled at the same height on either end. Two of the braces are mounted flipped upside down between the legs.

Table supports

The long table support is mounted perpendicular to the grain of the table top. The holes are 5/8" in diameter, and 2.5 cm deep.
The ends are beveled 22 degrees, and cut as an arc, with the center of the board as the middle of the table. The rectangles mark where the legs attach. These aren't dimensioned. Make sure the cross is centered on the legs before screwing it down.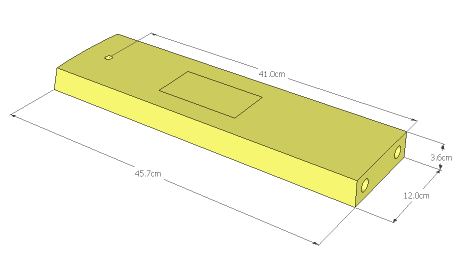 The short table supports are doweled into the long table support to form a cross. The holes in the end are 5/8" in diameter, and drilled 5 cm deep
The table supports are assembled into a cross, and then attached to the top of the legs with screws from above. The position of the screws is not shown.
The bolt holes through the table supports are for bolts to attach the table top with. The holes near the end are elongated to allow some expansion and contraction of the table top if the table top is made of solid wood. For plywood or particle board table tops, this is not necessary.
Dowels
You will need 16 pieces of 3/4" dowel just shorter than 10 cm, and 4 pieces of 5/8" dowel just shorter than 7.5 cm.
Table top
The table top should be 120 cm in diameter, and 3.6 cm thick.

See also: Building this table

More woodworking plans