Homemade lathe
By Beri Bracun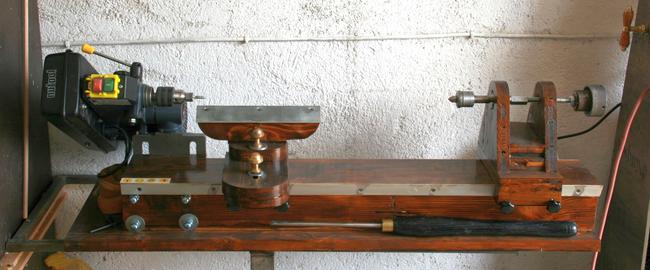 Beri Bracun writes:
A wooden wood lathe. Mostly based on the design from Shopnotes #73, the major difference being that a drill press is used to drive it.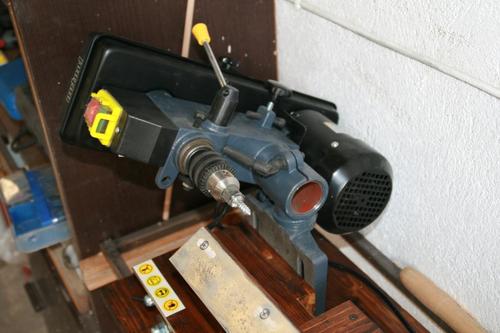 As you can see, it is a small drill press with the column cut off and attached to the bed over the drill table. This was far cheaper than buying 5 step pulleys, a motor, a NVR switch, chuck, bearings etc... The mechanism is bolted down so the drill chuck is fixed, improving runout a bit. Still need to make a back plate to fit the B6 taper of the drill and replace the drill chuck with a proper wood turning chuck. But even this works very well.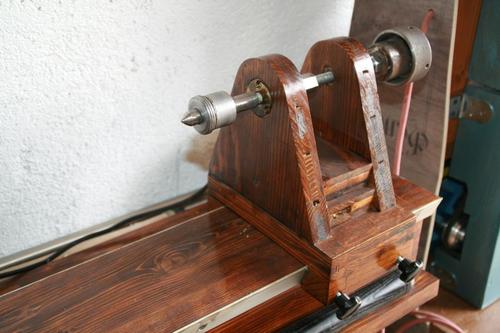 The tailstock, a simple affair with a old MK1 live center modified so it can be bolted on the M12 screw acting as tailstock shaft.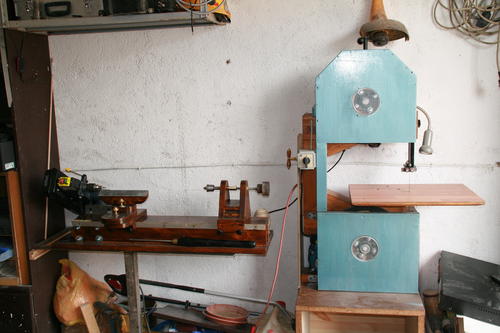 As you can see, I have repainted my bandsaw a bit, but still did not make the tilting table, the rip fence, nor the drawers in the stand....
I painted it to match my disc sander, the original stain I used is called "Holiday wood stain". You get this colour when you want to stain something on a holiday when shops are closed, and you realize that you only have small quantities leftover in the cans. You mix them all up, that is how you get "Holiday wood stain" : )
Next project will be a table saw with a router, something like the workstation in Shopnotes #50. Basically a cheap 250 mm table saw, a plunge router modified to be mounted on a table, and a old vacuum cleaner integrated into one unit. The main problem with my cheap table saw is that it is too flimsy and light, the table being too small to cut larger sheets, and the rip fence having only a 170 mm practical capacity. I have already scrounged the square tubing for this project
I'm really looking forward to seeing that table saw when he builds it, and I'm sure so are many readers, so I'll post any pictures Beri sends me. Love the looks of these machines - almost "steampunk" style!