Ryszard's 'Archmedes' marble machine
Ryszard Grenda writes:
Hello Matthias
I finished building my marble machine "Archimedes 2", inspired by Paul Grundbacher's machine.
The machine is 150 cm tall and 57 cm in diameter at the base.
The lifting chain has 20 links and is 3 meters long.
The Archimedes screw is 100 cm long
Tower with moving ramps is 57 cm high
Uses roughly 400 marbles, 16 mm in diameter
Made of approximately 760 wooden parts, not counting screws and bolts
Steel shafts are Ø 8 mm, Ø 10 mm, are mounted in ball bearings
Materials: Ash, Oak, Beech, plywood

I used all my homemade machines to build it: my lathe, drum sander, disk sander, bandsaw, router lift and my pantorouter

I made some changes from Paul's machine. The lower section is different. The lower Archimedes screw is replaced by a tower with moving ramps. The ramps are driven by the rod from the lower chain wheel. I built two mixers: Mixer 1 (two bowls) has two inlets and one outlet. One inlet is from the Archimedean screw, a second inlet manifold is the "flip-flop" from the chain lift. The outlet is to mixer 2

Mixer 2 has two inlets and two outlets: one from mixer 1, the second from the moving ramps. The first outlet is on track to moving ramps, a second outlet on the water wheel. The water wheel marbles fall to the bowl at the bottom.

Other parts are a Watt's speed regulator and distributor "Flip-Flop"

I used my homemade lathe to turn some parts.

The gears are designed on the free online gear template generator and cut out with my homemade bandsaw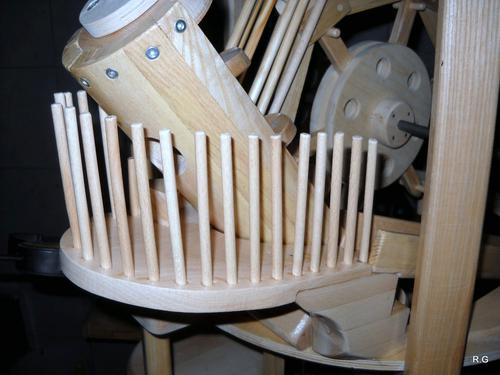 I built a jig to cut tracks and wheels on the pantorouter.
The lower water wheel is modeled on the historical wheel of the museum (which drives a hammer mill). It has a mechanism to prevent it from turning backwards.
The moving ramps are based on Paul Grundbacher's machine Etagen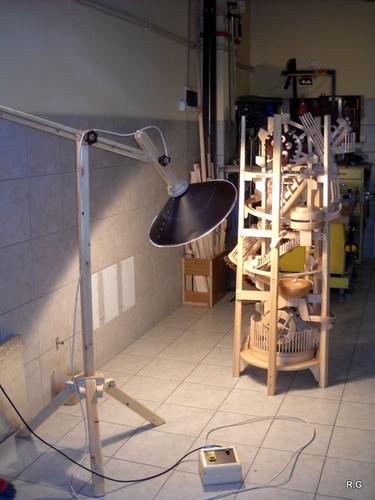 I also built a Wooden Light Stand for lighting for making
better pictures and video based on a design by John Heisz.
Construction was from April 20 to June 25, several hours a day.
I plan to build more marble machines.
Thanks to Paul Grundbacher for the inspiration.
greetings,
Ryszard Grenda
More of Ryszard's projects:
See also: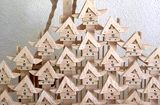 Paul grundbacher's
marble machines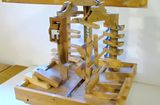 More
marble machines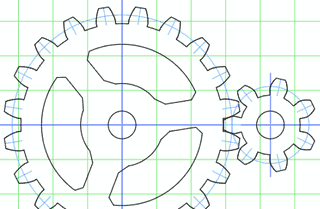 Online gear template generator