Ryszard's homemade drill guide
Ryszard writes:
Hello Matthias
Soon it will be a year since you posted articles about my workshop and projects (19 March 2012).
Through your articles and video films my skills and knowledge have increased, and in my workshop there are new devices made by me.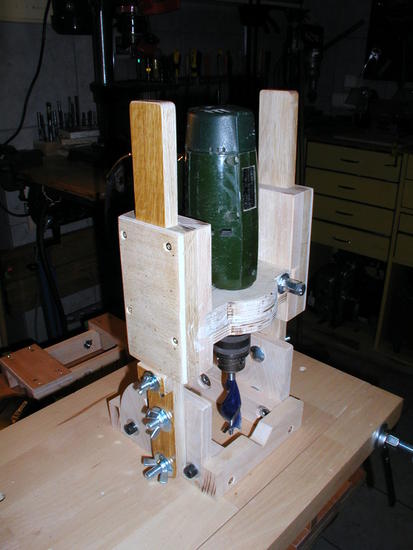 I decided to mount the railing of the stairs in my house. For this task, you need a tool for drilling 25 mm holes for attaching the balusters. Holes need to be drilled at 90 degrees and at an incline of 41 degrees in the handrails.
After realizing such devices are available in stores, it turned out that these are very expensive. For example:
http://www.do-drewna.pl/sklep/index.php?products=product&prod_id=301
for 1808 zl (about $ 565) + special drill bit from $ 65 to $ 280 zl per piece
My assessment was that these were unsuitable for "Do it yourself". To purchase one of these for 42 holes would be irrational.
So I decided to make a suitable device.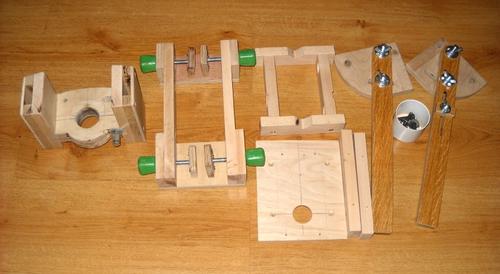 I used scrap oak, beech and plywood to build a multi-function drill stand for drilling perpendicular and oblique. It has a 43 mm mounting flange to hold a 500 watt hand drill.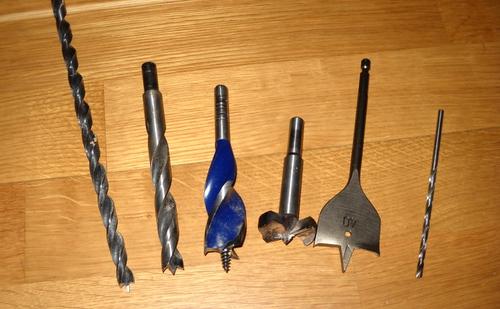 The only cost was, for screws, bolts and nuts (M8 and M10) to a total of about $ 5-6, on sale. I also bought 20, 22 and 25 mm drill bits for $15.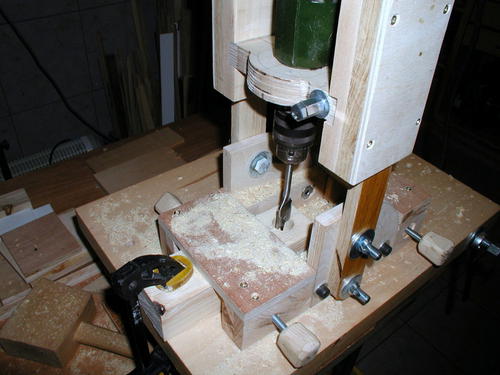 Before installing the railings I did a number of tests in the shop on different woods - spruce, pine, beech and oak, with drills ranging from 6 mm to 40 mm.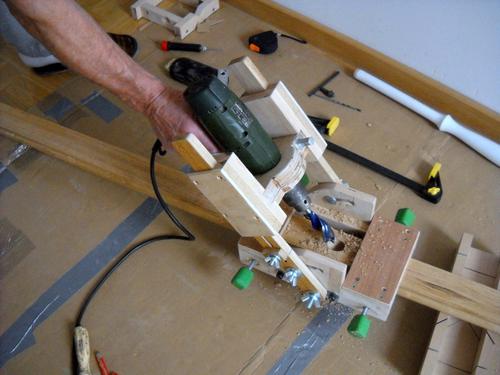 The drill guide held up unexpectedly well. It is strong and rigid. The clamps can be swapped out for drilling on flat surfaces, such as stairs. You can also use drills up to 400 mm long, with the drill still positioned between the arms.
Angles from 0 to 45 degrees incline can be drilled. The stand has a drill depth stop. For drilling inclined holes 25 mm in the handrails, I pre-drilled 4 mm pilot holes.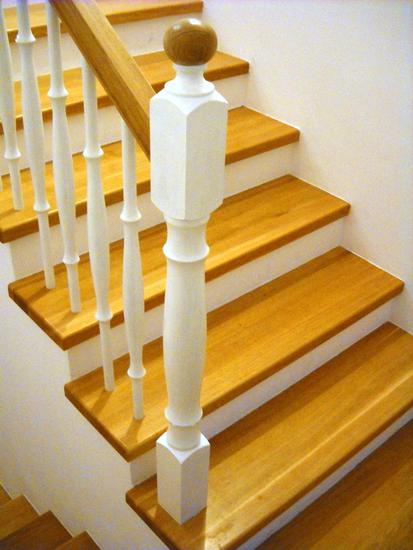 The stand also served for drilling holes for anchor bolts for three pillars railings.

The stand is solid and very cheap. It is easy to use, and can also be used to build wooden arbors, pergolas woodshed, the world, etc.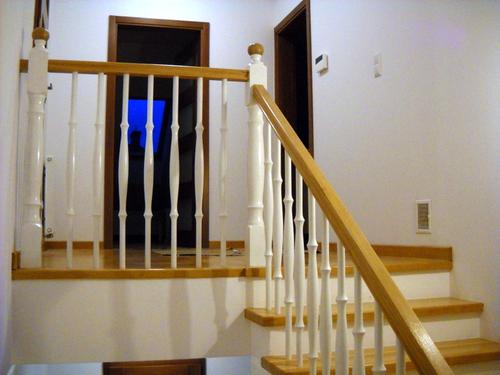 More of Ryszard's projects:
See also:

More
reader projects
on
woodgears.ca