Ron Walters's clock wheel building experiments
Wood Gear Clock Wheels can be made in a variety of ways, the easiest being from Baltic Birch.

Sometimes the white Baltic Birch with its outside ply grain running in one direction becomes too repetitious and one wishes to change the appearance of the clock. Homemade plywood allows us to use wood of a type and color to match the clock although the grain will still run in one direction. Segmented Wood gets the grain running in a radial direction, which is very attractive. However, it is a matter of the particular pieces and type of wood used and a bit of luck if the segmented wheel will remain true and not split or crack due to weather changes. My Segmented Wood Blanks is one method I have used with good results (thus far).
Simplicity Variant - Homemade Plywood - Introduction
Plywood Clamping Jig - Making Plywood Part 1
Plywood Clamping Jig - Making Plywood Part 2
Plywood Clamping Jig - Making Plywood Part 3
Segmented Clock Wheel Part 1
Segmented Clock Wheel Part 2
Comparison Of Completed Clock Wheels - Plywood & Segmented Wood
Wood Gear and Clock Wheel Repair - Baltic Birch Plywood
Simplicity Variant - 48 Hour Conversion
Simplicity Variant Running
Solaris Clock - Segmented Wood Wheels
Solaris Clock Wheel Review - 1 Year Later
Looking for warping and cracking over time.





Other projects by Ron Walters:

See also: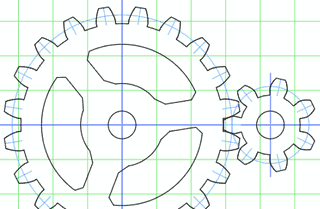 Gear template generator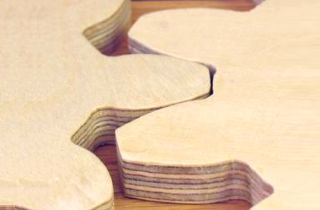 Making plywood gears