Kyle Scott's homemade belt/disk sander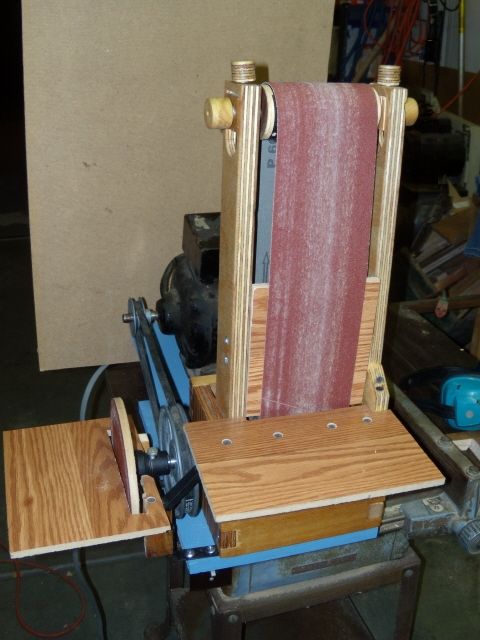 Kyle Scott writes:
Hello. I just wanted to send you a few pictures of my Homemade Belt/Disk sander. Your web site has inspired me to try and build my own tools. Next up I'm hoping to build a 12-14" band saw.
I built it for $15 (the price of the sanding belts and a few packs of sanding disks). It's built out of scraps from when I built my 48" rolling tool box, and my telescope, and some laminate flooring scraps, it's some amazingly abrasion resistant stuff. The motor is a 1/6th HP sleeve bushing GE motor I found. It doesn't have tilt tables, I never used that feature when I used "real ones" in the past.
It works great, I wish I had one a long time ago.
Thanks for being such an inspiration to all amateur tool makers.
Kyle Scott.
I was curious about how he made the rollers and bearings. Kyle answered:
How I made the rollers-
I hole sawed six 3/4" disks out of Solid Pine.
Then they were glued up and clamped together, using a length of 3/16" threaded rod to align them. The pulleys are crowned. While they were still on the threaded rod, I put them in my metal lathe and then used emery cloth to smooth them out/crown them. I don't have any wood lathe chisels, so I had to improvise.
The top axle is machined-down shafting and runs in bronze bushings that have to be greased. Probably going to replace them with small ball bearings if the bushings turn out to be too much of a hassle.
The lower axle was machined from a shaft out of an old electric motor. I pressed the old rotor off of it, and machined it down, then fit the ball bearings on it. The ball bearings are set into blind holes.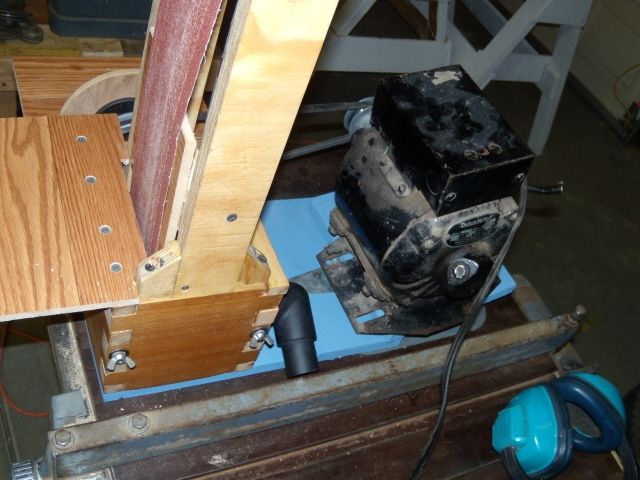 Kyle later took this sander apart to build an
improved sander
See also:
More reader projects on woodgears.ca