Stackable sawhorse plans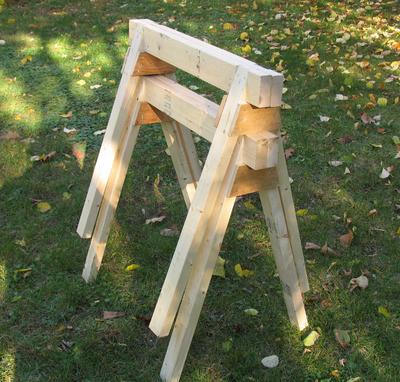 Materials needed for two sawhorses
| | | |
| --- | --- | --- |
| Quantity &nbsp | Item | Purpose |
| 3 | 2"x3"x8' | Legs. You can cut 3 leg segments from each 2"x3"x8' |
| 2 | 2"x4"x7' | For cross beams. |
| 1 | 3.5"x2'x.75" ply | Piece of plywood scrap to cut for leg braces |
| 12 | 2.5" nail | To nail cross beams together |
| 50 | 2" nail | To nail legs and cross braces |

Cross beams: (2 per sawhorse)
Cut 3' long each. For one pair of sawhorses, cut from two 2x4x7's. Aternatively, buy one 2x4x12', but two 2x4x7' probably cost the same amount.


Legs: (4 per sawhorse)
Cut three segments 32" long from each 2x3x8'. Cut square at first to keep it simple, then cut the miters and the taper.

Cut the miter on the bottom end of the legs only half way across. This prevents it from chipping out when the sawhorse is used.
Plates: (4 per sawhorse)
Best made of plywood 3/4" or 1/2" thick, though simple boards would do too.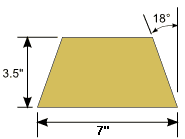 Sawhorse assembly

Step 1:


Nail and glue together
the pieces of the beam
with 2.5" long nails.

Step 2:

Nail and glue the legs to
the beam with 2" long nails
Step 3:

Nail and glue the plates
to the legs with 2" long
nails
See also: