Homemade bandsaw and gilliom based table saw spotted
Gavin Hanna writes:
Hi Mathias,
Yesterday, I saw two interesting home-built machines for sale at the Restore (Habitat for Humanity) in Vancouver.
The bandsaw frame is similar to yours and it uses a hinge for the table as you have on your latest model. The wheels aren't crowned at all and I had a difficult time figuring out the tire material. It almost seemed like some sort of rubber paint (very thin). The price tag read $100.
The table saw (no price tag) is all homemade except for the mitre fence and the trunnion gearing (for blade tilt), which is metal. All the knobs are hand turned. The table surface is silver-painted plywood. I really liked the design of the fence. My iPhone pics don't quite do it justice.
Anyway. I'm a big fan of your site and I've been telling folks at my woodworking co-op to check it out. Keep up the great work!
Gavin Hanna
Vancouver, BC
Wood framed bandsaw
Click any image to enlarge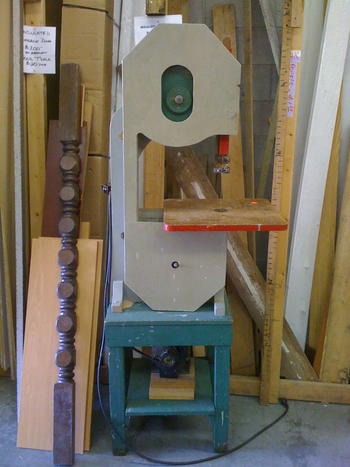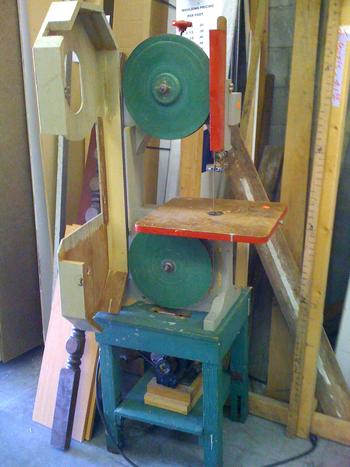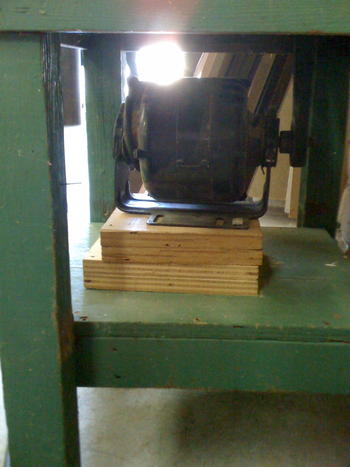 My comments:
That saw does share many design elements with my homemade saws, especially how the blade guard goes around the wheel and extends out the top of the machine when guide column is raised all the way up. The guide column clamp also appears to be similar.
Quite a simplified design with the hinge behind the blade. Not something I ever considered for any of my designs. The way I abuse my bandsaws, I need to support the table both in front of and behind the blade.
Gilliom table saw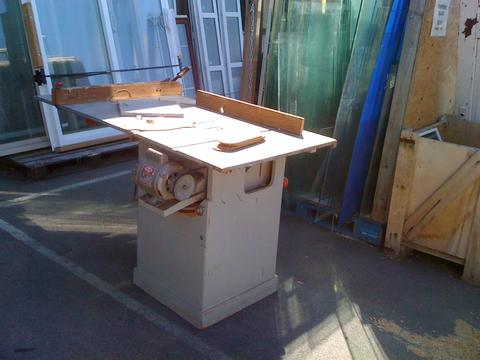 Given the metal trunnion gearing, I figured this might be one of those homemade table saws based on the kit from Gilliom mfg. co. Searching for "Gilliom table saw" didn't bring up very much. This blog appears to be the best reference. Another prominent hit, ironically, was Hector's table saw.
Based on the relative positions of the angle lock knob and depth adjustment wheel, as well the motor mount, I'm pretty sure this saw is based on the Gilliom kit.
Gilliom used to run ads for building your own bandsaw, belt sander, table saw, and other machines in the back of woodworking magazines. But I think the bandsaw was by far their most popular kit. I have come across a homemade Gilliom band saw and belt sander myself.
The label on the motor indicates 1/2 HP, 1750 RPM. Perhaps a bit underpowered.
Many thanks to Gavin Hanna for spotting this and sending me the picutres.
See also: