Fernand Robichaud's wooden bandsaw
Fernand Robichaud writes:
Hi Matthias,
I just finished my homemade bandsaw using your plans. Here are some pictures of the saw.
...
By the way, she's working like a 2000 dollar machine.
Thanks again and keep up the good work,
Fernand.
I'm starting to get a little jealous because every time somebody sends me pictures of their bandsaw, it seems that their bandsaw looks so much better than mine :)
I was originally going to put wooden letters on my bandsaw like Fernand did. It was going to say "Woodgears.ca" across the top, but when I laid out the letters on the top cover, it just didn't look right. So instead I turned those letters into a sign that you can see on my windowsill in some photos, like here for instance.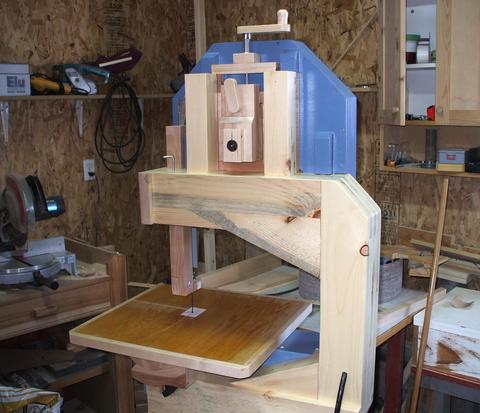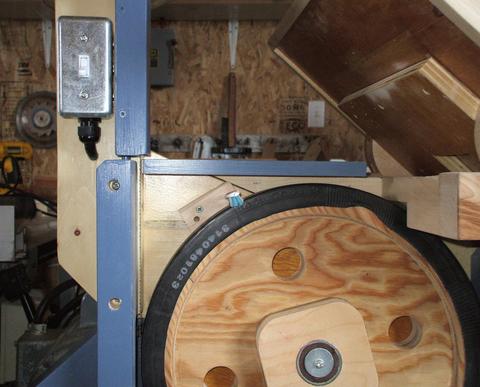 "This small detail that I put in mine. It's a cut-off toothbrush inserted in a small block screwed close to the lower bandsaw wheel to clean it up as it runs."
I never put a brush in any of my bandsaws. The tires get a deposit of sawdust on them, but I figure it acts as a protective layer so the tire does't wear out. Never had any problems or vibration from the sawdust.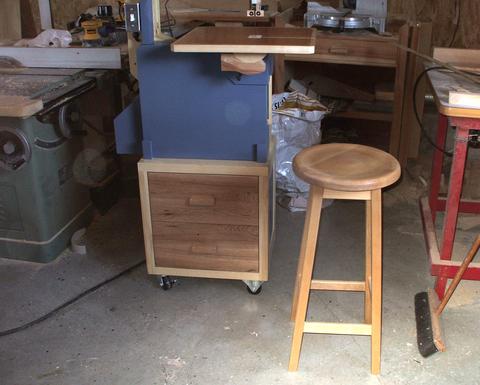 "Do you recognize the stool in one of the pictures?"
As a matter of fact, I do recognize it. It looks just like one of these.
See also:

Plans for this bandsaw
More reader projects
Back to my woodworking website