My dad's workshop (continued from first page)
Hand tools / assembly area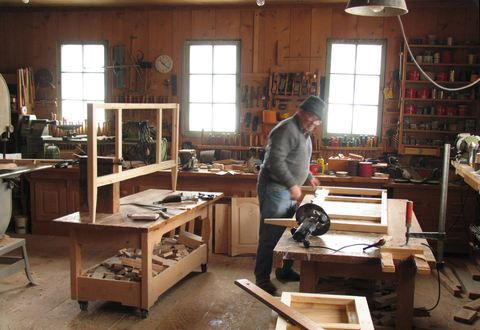 This is my dad assembling a dresser.

The workbench at the left is on wheels. The idea being to move a large batch of parts from one machine to another.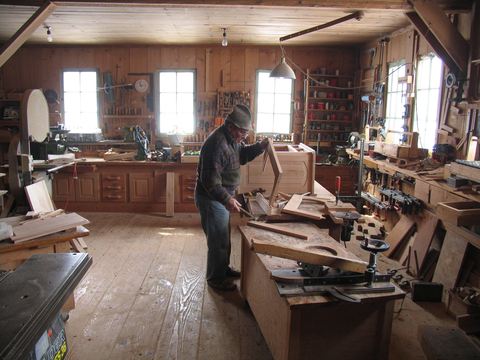 Another piece of furniture getting assembled.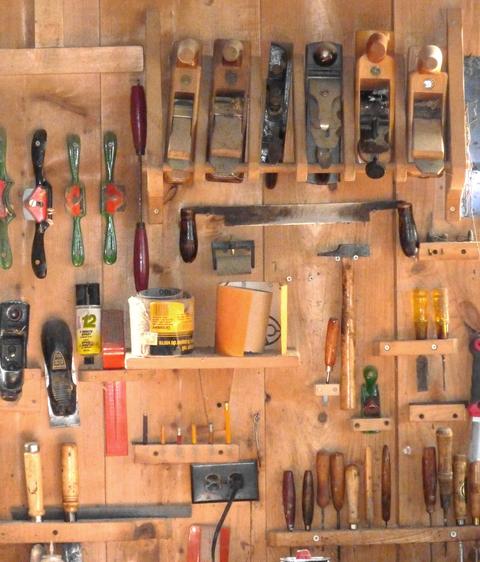 Every hand tool has it's place within reach.
This inspired my tool holders
Felder table saw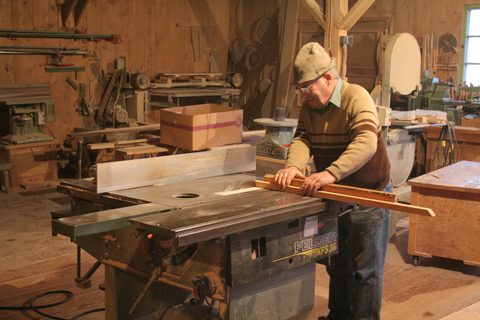 The table saw is the centerpiece of most workshop. This table saw is European style table saw, of the make 'Felder' from 1987. Felder table saws have evolved a bit since then.

Although larger and more solid than a cabinet maker saw, this table saw is actually hobby equipment by European standards. Professional table saws tends to have much larger sliding tables, and are not combined with a shaper like this one is.

A neat aspect of the Felder table saws is that pieces of extension table can be clamped to any edge of the saw. Useful for having a larger support on the sliding table, or extending the outfeed table.

More about the felder table saw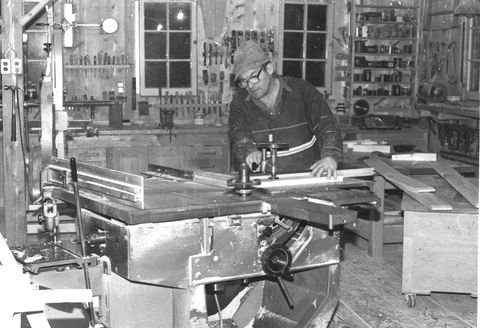 In this shot, my dad has the saw set up for cutting tenons. Tenon cutting is done by putting two large cutter heads on the shaper spindle, with a spacer in between. That way, both side of the tenon are cut with one pass, with a lot more repeatability than a table saw tenon jig could provide.
For making doors, beveled or profiled cutters are used, much like panel cutting router bits would have, but with enough space for a tenon in between.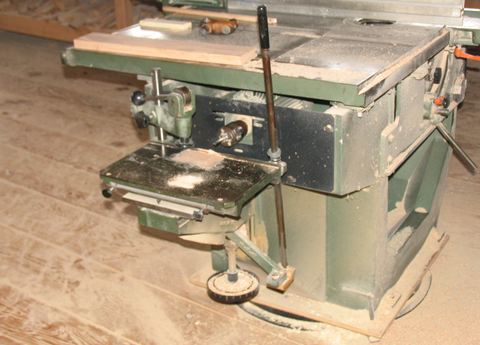 This is the mortising end of the table saw. Its the European style, which basically just makes an elongated hole (no square chisels). The work piece is clamped to the small table, and the table is moved around using the long lever handle on the right.
This method has the advantage over the square chisel type mortiser that it doesn't involve a lot of force, which makes the results more precise.
In my own shop, I rigged up my own mortising machine on the same principle using a router.
A few clever bits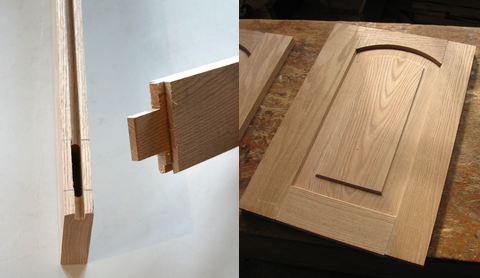 Here is an example of how my dad makes cabinet doors. Unlike with regular panel router bits, this setup allows for deep tenons on the cross pieces, which makes for much stronger joints. Also note that one side of the door is beveled. The one of the tenon shoulders is beveled to mate - done with a beveled cutter on the shaper.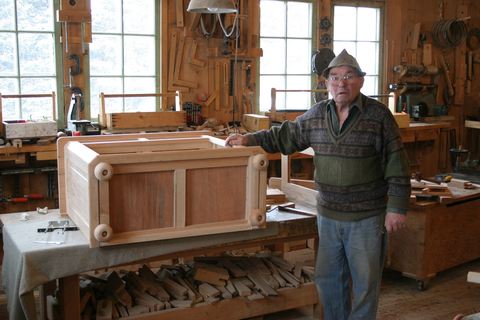 This is my dad with a dresser that is nearly done. For dressers with short round legs, he attaches these by using a wooden screw thread. That way, the legs can be screwed up and down a little bit to level the dresser for wherever it's put.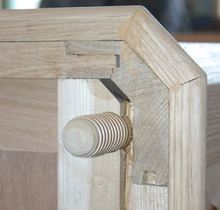 Related pages: