Lee Zimmer's pantograph
Lee Zimmer writes:
Hi Matthias,
I am really having fun experimenting with the 3D pantograph capabilities. Thanks for the plans. I managed to build the router carrier upside down the first time and had to redo it but that isn't uncommon for me. I couldn't figure out why my carved letters were coming out in italics J.
Since the pantograph scales things to 1/2 or 1/3 scale I thought it would be cool to build 6" tall letters that way I would end up with 3" or 2" letters respectively. I did the letter design in Corel Draw. I used a Times Roman font set at 637.8. I then used the contour tool to set a ¼" contoured outline. I cut the letters from 1/2" Baltic birch on my scroll saw. I backed the letters with ¼" hardboard. So, I cut once and use twice. One pattern does inset letters the other raised letters.
The letters are set in a letter sled which is 11" wide by 54" long. The sled slides horizontally in a dado cut in the 24"x30" pantograph base. There are two dados cut in the top face of the sled. One is to carry the letters and the other to accommodate the letter cam locks.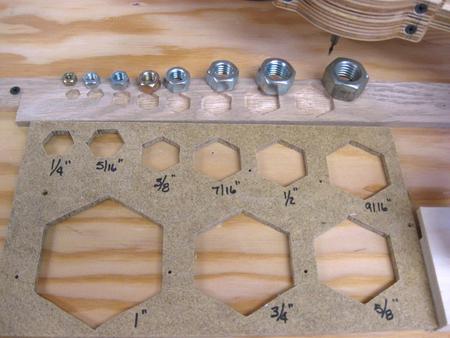 I saw you use your pantorouter to carve an inset for a nut in in one of your videos. I thought I would give it a try on the 3D pantograph. I must say that I am rather pleased with the results. Plus I can use the same template with my pantorouter.
Here is a link to my 3D pantograph photo album on photobucket. http://s1263.photobucket.com/albums/ii625/luv2learn3/3D Pantograph
Thanks for inspiring us!
Lee Zimmer
P.S. I guess I should have made the signs read woodgears rather than Lumberjocks. Sorry about that but my lumberjocks post of your 3D pantograph and where to buy the plans has over a thousand hits. That ought to make up for the signs J.
Matthias comments: No problem. Happy to see people having fun with the design. Actually, your bansaw and pantorouter are getting well over 150 views per week, each on woodgears.ca, and that's not even counting the 11000 views your bandsaw or the 4000 views for your pantorouter while they were still linked from the front page. 1000 views isn't that much :)
See also: