Lucian's oscillating spindle sander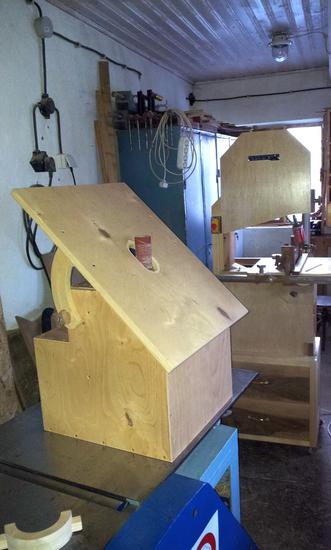 Dear Matthias,
I want to tell you that last week I finished building Oscillating Spindle Sander, Simon Heslopís SkechUp model and YouTube video: https://www.youtube.com/watch?v=SWw5GqIPqEI (excellent material Simon, many thanks!)
I started to work on this project last year, while building the bandsaw (with plans I bought from you), but due to lack of time, I abandoned and restarted working on it several times. Basically, I worked more intensively in December 2014 and in January 2015.
Some technical and budget details:
1. The main motor (600W, 230V) and the electromagnetic switch are from a second-hand circular tile saw, around 25 USD
2. The oscillating mechanism is driven by a 12V DC car winshield wiper motor for Audi A4 / VW Golf 3, from a wrecker, around 12 USD
3. The 12V motor is powered by a DELL ADP-220 switching power supply (12V, 18A), used by DELL Optiplex computers, around 15 USD
4. The rails are from an old copying machine, 0 USD
5. The bronze bushings and other small parts are made by a friend on lathe, as well as the steel spindle which holds the wooden sanding drum, about 10 USD.
6. The steel block that holds the steel rails was made by another friend on a miling machine, about 6 USD
7. The frame, the table and the covers are made of cherry, 18mm birch plywood and 4mm beech plywood, especially from scraps.
So, the total cost of the components is below 80 USD, which I found reasonable.

Greetings from Romania,
Lucian Darlau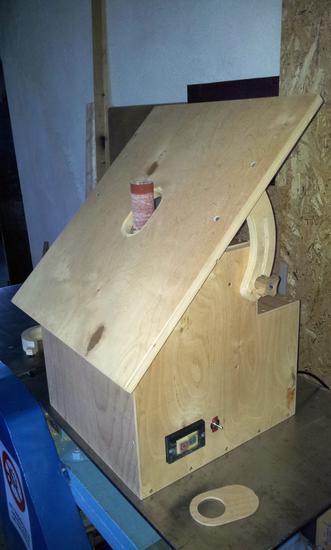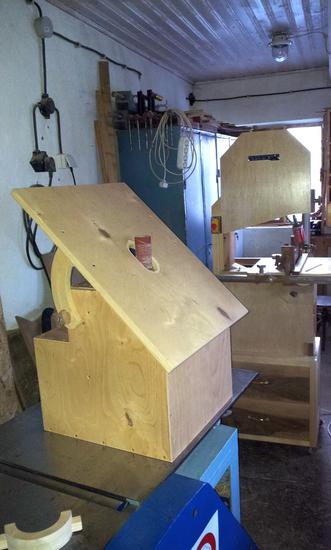 In these photos, you can see the sander on lucian's homemade jointer/planer, with lucian's homemade bandsaw in the background.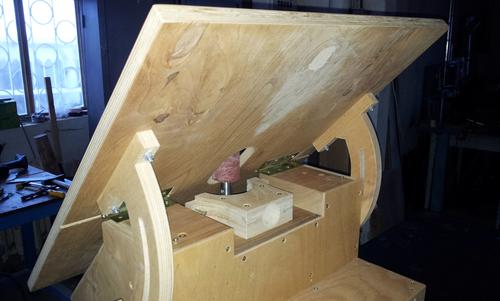 More machines by Lucian:
More sanding machines:
More sanding machines
Back to my woodworking website