Pierre Faubert's bandsaw
Pierre Faubert writes:
Bonjour Mr.Wandel,
IT WORKS!!! And quite well may I add.
I just finished building my bandsaw as per your drawings. Those plans are something else. I still cannot believe the detail shown!
I am totally satisfied with the result and it was a lot of fun to build.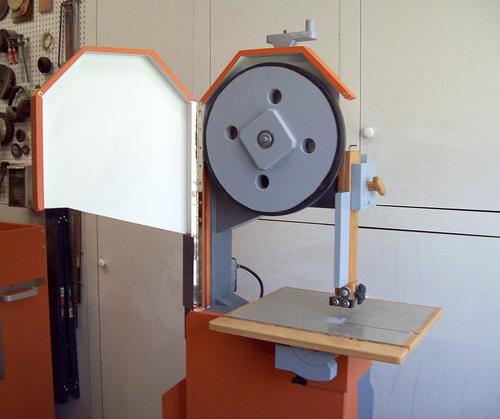 Here is where I have deviated from the plans:
The top wheel cover is hinged. The power switch is moved to the back to make room.
All the covers are held with rare earth magnets.
I installed a trust bearing in the upper blade guide as in your bandsaw mill (thank you again for the drawings you kindly sent me).
I modified the top wheel mount as per your bandsaw mill (much, much easier to fabricate).
I used ebony for the blade guides (what I had on hand).

What gave me a hard time: the little bolt head holders in the trunnion assembly. They kept on breaking on me.


Matthias comments:
The one-piece top wheel mount is certainly easier to make, but it's not foolproof when setting it up, so I'm still not sure if it's an improvement. Making it really wide, as you did, does help though.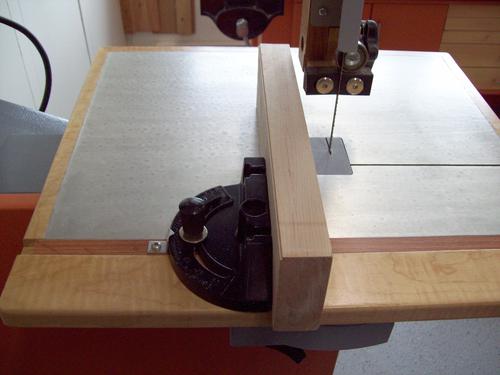 My expenses were as follows:
Plans
$21.56
Wood
$32.42
Hardware
$31.44
Bearings
$48.01
Shafts
$28.28
Machine shop
$20.00
Pulley and belt
$68.10
Bicycle inner tubes
$11.48
Paint
$19.53
Blades
$32.20
Electrical wire
$13.72
Total:
$326.74
The rest I already had on hand: 3/4 ply, maple blocks, 1 h.p. motor, and some paint and hardware.
I used one of those knock-down screws with a wing nut and washer to lock the blade slot. I needed to do that because the table had twisted a little and would catch the wood as I was cutting. I used a drilling guide for the 3/4 in. Forstner bit, as the hole was cut after the slot was made. By clamping the guide down, the bit did not wander.
Matthias comments:
That's my favourite mod for the bandsaw. Very clever!

Merci Mr.Wandel and keep coming out with more machines anyone can build.
Pierre Faubert
Also see Pictures of Pierre's workshop
See also:

More about bandsaws on my woodworking website.