Elyasaf's double-width box joint jig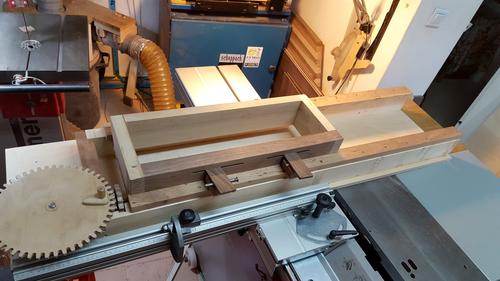 Elyasaf writes:
Hi Matthias,
I recently finished a desk of two drawers, in which I did 60 cm of finger joints (a total of 1488 fingers in that desk). for doing that I built a different version of your box joint jig - I doubled the width to accommodate up to 60 cm width piece.
You can see the jig in action in the video of the production of the table here:
https://youtu.be/XdQaHRQq2ME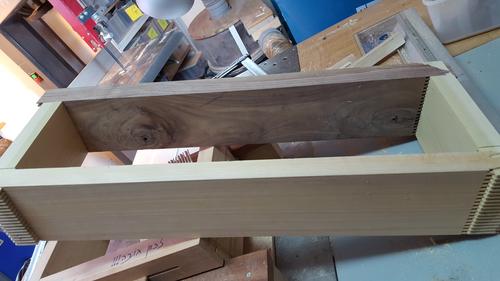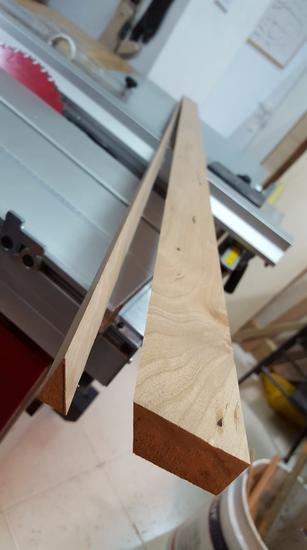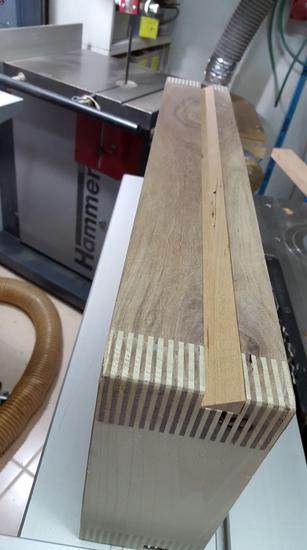 You can see photos of the build below. I did one improvement that you can see in the photos:
I made the beveled piece as an insert, instead of cutting it on the actual box. this allows better accuracy, and prevents the option of ruining the box. also in case of wear it could be easily replaced. the angled piece is firmly attached as an insert with a double sided stick tape.
One important advantage of doing the rails this way is that the recerssing is done both sides at the same time and at the same way exactly - and this way you avoid getting any misaligmnates with the rail (this is my 3rd jig, and in the first two it was an issue).
I hope you find some interest in that.
Making the jig this wide can make it unwieldy and difficult to guide in a miter slot, but attaching it to the sliding part of a format table saw helps a lot.
There are other box joint jig designs that don't need to be twice as wide as the widest stock cut, but with multiple heavy workpieces in the jig, I doubt sufficient precision could be achieved by anything lighter.
See also:
Back to screw advance box joint jig