Jim Lundin's box joint jig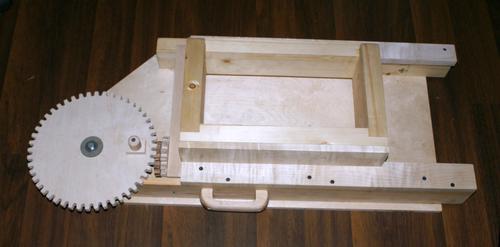 Jim Lundin writes:
Matthias
Thank you for the excellent plans for the box joint jig. I really enjoyed building it. I couldn't find the wood I needed around here so I bought it on eBay, except the Baltic birch, which I ordered from Woodcraft. But anyway I ended up with a lot more wood than I needed. I'm currently building a second jig and using 1/4" box joints for the stock holding box.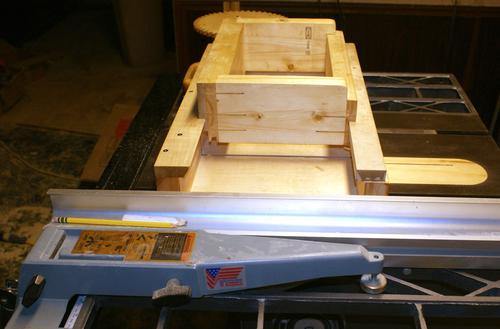 I didn't stick strictly to the plans. Some changes by mistake, some for simplicity, but it came out good. I was really in a hurry to try it out so I started using it before I made the tensioner. My box fits so tightly between the rails, there is no play at all and yet it slides good. I understand the need for one and plan to add one to it in the near future.
I also put the secondary gears on the other side of the baring mount, and for the primary gear mount I just threaded a maple block. I was originally only going to use the 48 tooth gear to make 1/4 inch joints.
Matthias comments
I had to think a bit about why I arranged the gears the way I did on mine. With the secondary gear to the right of the bearing, the primary gear moves about 3 cm (1 1/4") further right, so the jig is more compact. The stock holding box also doesn't get as close to the bearing that way, so the threaded rod is less sensitive to misalignment.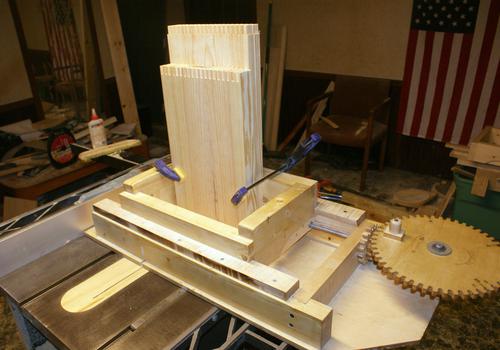 I build clones of old 1950s guitar amps and 1/4" is the only size that Fender ever used, to the best of my knowledge. But now I'm thinking I want to be able to use any size gear I might find a use for, so I will end up changing that too, but the threaded maple seems like it would last a long time (much to my surprise)
My next project is going to be a router table extension on the table saw. I recently bought a used Delta uni fence and rail for my old craftsman table saw, and it is plenty long to use with a router table extension.
I'm new at woodworking but I'm falling in love with it. I of course will be building your router lift and I'm really in love with your wood band saws especially the fact that I could use it for a small saw mill. I have 10 acres of mostly wooded property.
Jim Lundin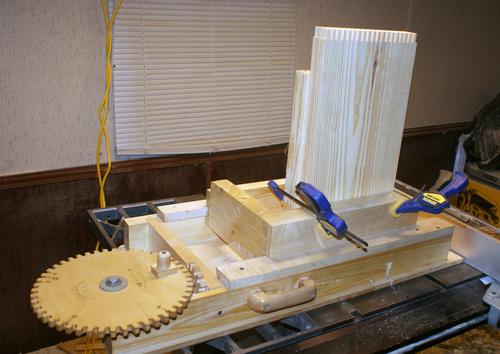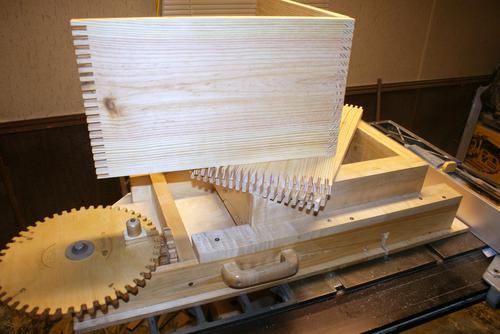 Jim later added:
My original box joint jig was a simple 1/4 in block of wood through a piece of plywood mounted to my miter gauge. I must have really got lucky because it actually worked good for the first 2 boxes I made, but then it went off and I never could get it to work right again. Joints with more than 10 pins were a nightmare.

Left: Woodhaven box joint jig


Right: First homemade box joint jig
Then I bought the Woodhaven box joint jig for $65. My home made one worked better. So now you know why I love your jig so much. All 4 sides cut at once with my Freud 8" dado set and a 0.02 shim, and I'm good to go. I also tried it with my thin-kerf blade with cuts at tooth positions 0, 19, 29 of the big gear, and it works great. I'd really like to try joining 2x4s with just the width of the blade.
See also:
Back to screw advance box joint jig