Matthew Trueman's strip sander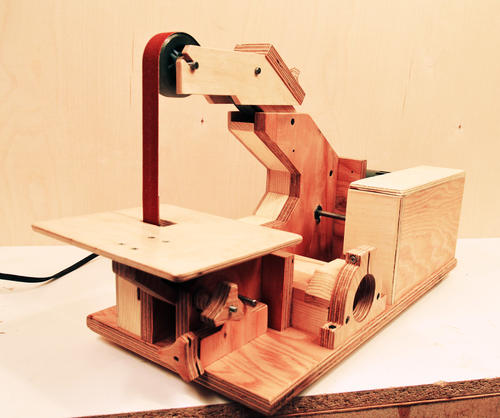 In October I was hiking and found a roller blade on the side of the road. I pillaged its wheels thinking they could come in handy one day. When you posted the strip sander video that got the wheels turning (literally and figuratively). I needed a Christmas present for my dad who does model making, and that's how this whole project got going.

All in all, the plans were clear, easy to follow, and the tool works great! Dust collection is near perfect too!

The one difference was the axles. I went to Metal Supermarket with the roller blade bearings and said I needed a shaft to fit these bearings. I watched the guy measure both bearing and shaft with digital callipers and remark that their saw flares the end which is why I couldn't get the bearings on. Taking his word, it wasn't until I got home did I realized that the shaft was 4 thou too big. Metal Supermarket - you had one job! haha. Once I cut the shaft to length I had to chuck it in the drill press like a lathe and use a file to grind the axles to the right size. Alas the silver lining was that I could now just press fit the wheels onto the shaft and not have to worry about stop blocks.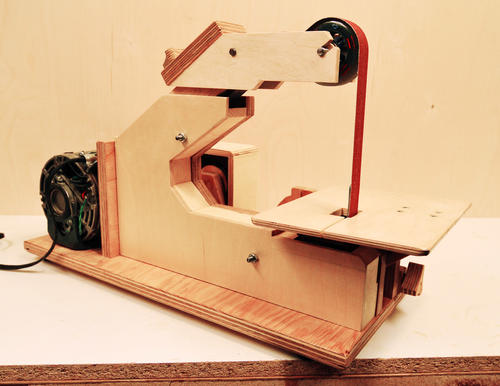 I decided to stain the wood instead of paint it - it's made of wood so it might as well look like wood.
I didn't have a switch handy so my dad added that after I gave it to him. I also ran out of wing nuts and washers to attach the belt cover.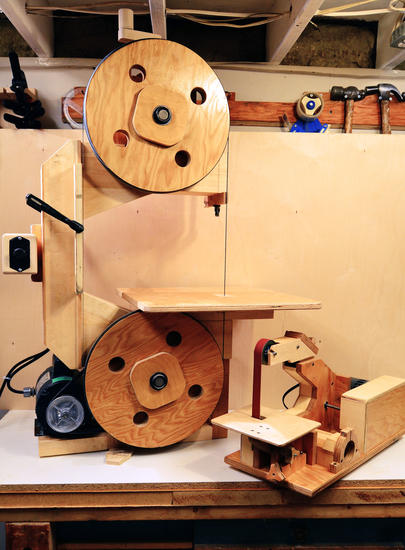 You can see my in-progress wooden band saw in this picture. I decided to clamp on blade guides and a guard so my left arm doesn't hit the blade again. Thankfully my sweater took most of the cutting the first time that happened. Unfortunately the band saw works great in it's present state so my incentive to finish it is diminished. One day it will all come together and you may see it again.
Thanks again Matthias for the great plans and DIY approach to nearly everything! It's saved me a ton of money in woodworking and also this Christmas season.
-matt
See also: