The last tour of my basement workshop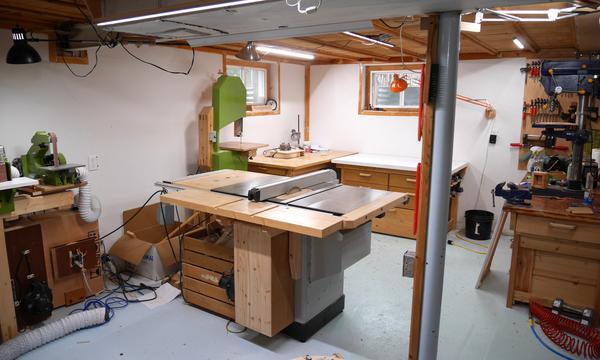 Even though I made shop tour videos of my shop in 2009, 2012 and 2015, I still get requests for tour videos of my shop. Not having time for a project this week, I thought I'd do another one, this time focusing more on layout. For the video, to help you get a sense of it, I only moved the camera while it was recording.
The far corner in this photo is where I do most of the work. I set it up this way in late 2007 and only made minor changes to the arrangement since. I wanted my main work area to be nearest the windows. Given limited space, workbenches against the walls made sense, and the best spot for my tool wall was the wall without a window on it, with the drill press in front of the tool wall. I wanted the table saw nearby, but not against a wall, which left only one logical place for it.
Having my most frequently used tools - table saw, bandsaw, drill press, workbenches and tool wall - close together made it really efficient for most of my smaller tinkering projects.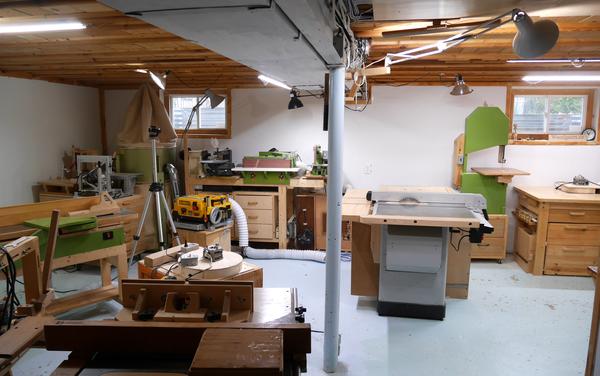 That said, the layout isn't perfect. If I'm working on a piece of furniture I usually end up first putting it together on the floor in my main work area, which means I don't have a lot of room around it. Also, with the workbenches against the wall, I can't just walk to the other side to work on something big on my workbench.
Another annoying feature is the column in the workshop. Most of the time it's not in the way, but it makes it impossible to break apart a 4x8 sheet of plywood on the table saw. But I haven't brought a full 4x8 sheet of plywood in since January 2008 (to use for my tool wall). I buy 5'x5' (1.5mx1.5m) Baltic birch from time to time, and I always have that cut in half at the store so I can bring it home in my car. Even with the remaining 5'x2.5' (1.5mx0.75m) pieces, I run into problems with the post.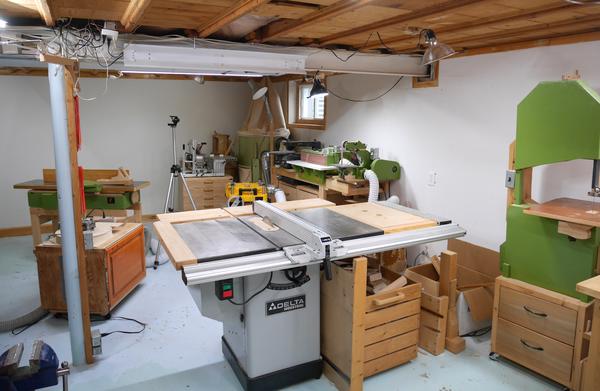 The back of the workshop has less frequently used tools, mostly on wheels. That's not to say that these tools are not important. But using the pantorouter, slot mortiser or router table requires some set-up and then usually running a batch of cuts. So these are not machines that I walk up to as often. Location is less important.
The jointer and planer don't need much set-up, but I use these mostly while I'm preparing wood for a project, so again, location is less important.
But the belt sander and strip sander are machines that I do walk up to quite a lot, so it would make sense to have these close to the main work area. The way to these machines is often a bit blocked by the jointer and thickness planer.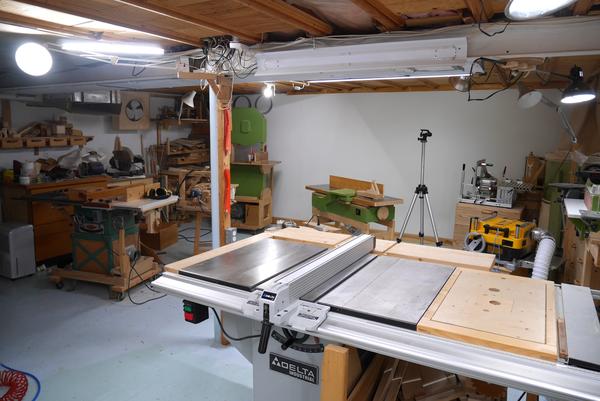 Here's looking towards the back of the workshop.
You can see the I-beam running through the workshop. Tall people tend to hit this I-beam with their heads. The ceiling is also quite low, which makes having lamps overhead difficult.
The house was built in 1955, before people thought of basements as extra living space, so ceiling height was not important. It wasn't that much earlier that people kept coal in their basements.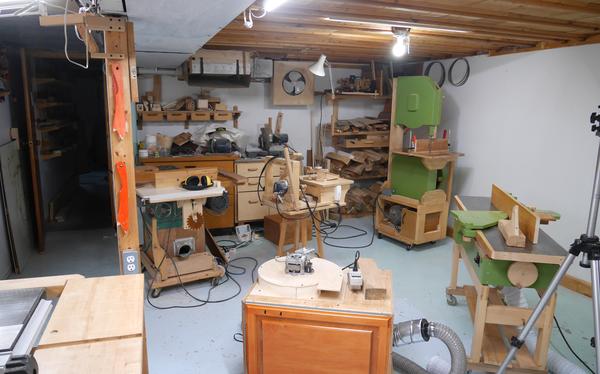 And here, looking towards the entrance from next to the belt sander.
In front, you can see my box dust collector. I normally have my small dust collector in about that spot, but I moved it out for refinishing the floor at the new house. For sucking up sanding dust, the cyclone really helps prevent the filters from getting completely filled with fine sawdust like it does in a shopvac.
My 20" bandsaw is also moved out to my big garage workshop. We are moving out to the country where that shop is, so over the next few months, all the tools will get moved out there. I might still do some projects in this shop, but I'm unlikely to do another shop tour in that time, so this is the last tour of this shop.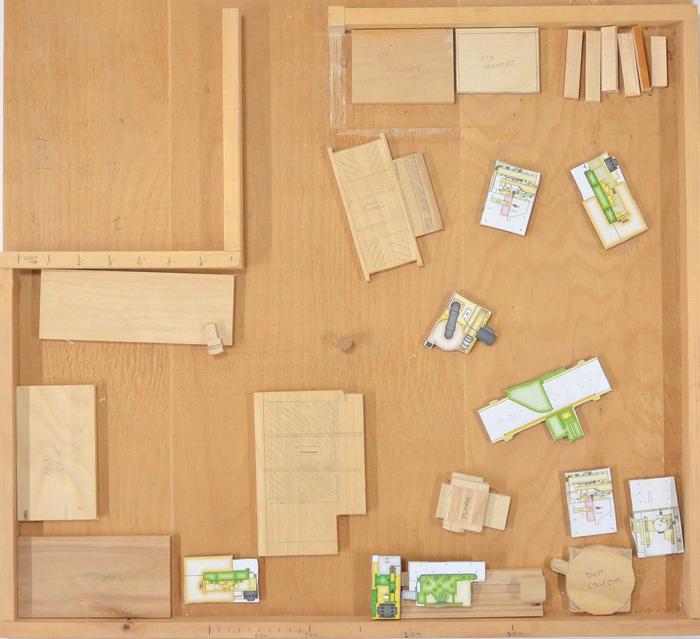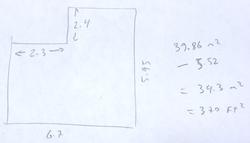 Here's a floor plan of my workshop. You can faintly see a meter scale along the bottom, and a scale in feet towards the left.
The shop is 34.3 m2, or 370 ft2. Though it often seemed too small, realistically, as long as I moved the machines I was no longer using out of the shop, it was always enough room for my projects. The largest thing I built in the shop was parts of my shed, a queen size bed, and another one earlier
The photo at left is actually an updated version of my old layout model.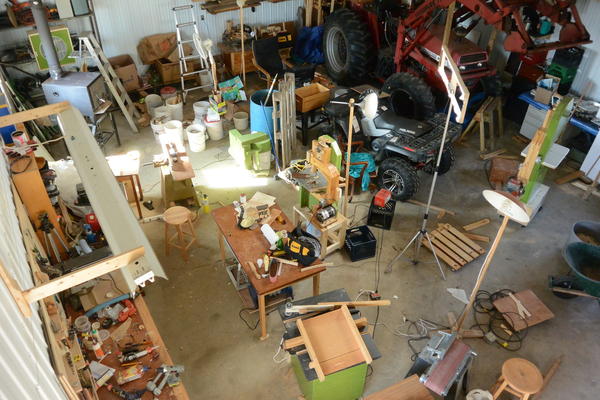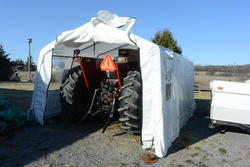 This big garage workshop will be my workshop in the future. But even though this workshop is over twice the size of my basement shop, the layout hasn't been working well for me. Part of the problem is that I have a relatively small area dedicated to woodworking. The back left corner has the wood stove in it, and a fair area dedicated to that. Then there's the tractor, and I need to be able to drive that out. I also have a computer desk next to the tractor, and the ATV in there, plus an area more for metal working (just out of view toward the bottom of the photo).
I obtained a car tent, which was just barely big enough to park the tractor in with the muffler removed and no bucket on the front end loader, though I had to duck while driving it in.
With the tractor out, I should be able to dedicate more space to woodworking and come up with a better wood shop layout.